January 12, 2009
Arai XD3 Review
I've been riding with my new Arai XD 3 crossover helmet for over a month now and it's become my preferred brain bucket over my Schuberth C2. There are a couple of features on this helmet that make it a new favorite. The sun shade peak blocks the sun's blinding rays late in the day. The fit is great, especially snug around the cheeks, sadly preventing me from chewing gum. The cheek pads are removable too for emergency helmet removal for paramedics in case of an accident. Ventilation is very good and the interior padding has channels for air flow. From what I've heard the previous version, the XD had fog up issues in cold weather, but I haven't had any problems with the XD3. I love that I can ratchet open the shield to allow different amounts of air flow through the front. The XD3 in size XL weighs in at 1740 grams, a big difference from my 1900 gram Schuberth flip up. The helmet also allows greater peripheral vision with it's wider and taller front opening. Finally, the helmet is amazingly quiet while riding at high speeds. Cross winds can catch the sun shade and push your head around a little, but that's it. Overall, I'm impressed with the Arai XD 3 and it's quality.

Available online at Riders Discount in sizes XS-XXL for $489.56 with Free Shipping! or toll free 1-866-931-6644.

Posted by stephen at 5:11 PM | Comments (0)
November 12, 2008
Two Up to the Taj Mahal
This past June on our trip to India my wife and I rode a Royal Enfield Bullet from New Delhi to Agra to see the Taj Mahal. We were going to ride to Jaipur to complete the golden triangle but I got sick from the food and we just rode back to Delhi with a fever in monsoon rains. Quite an adventure.
Photos from the India trip can be found here: India Top 75 Photos
And Nepal afterwards here: Nepal Top 75 Photos
Posted by stephen at 10:29 AM | Comments (0)
October 20, 2008
Sidi Crossfire TA Boot Review
Sidi Crossfire TA
Originally uploaded by Burnszilla.
After breaking my leg last year while dirt riding on my GS in leather dual sport boots, I figured it was time to step up the protection in the boot department. I read and researched opinions, reviews and articles on the ultimate dirt riding boot. Over and over, one name kept coming up: the Sidi Crossfire TA.
The Crossfire's rigid heel is anatomically shaped for maximum protection and my size 12 feet fit perfectly into the size 46 boots feeling comfortable and secure. The tip of the toe is covered with plastic to protect the base material from abrasion. There are plastic shift and brake lever guards on the top of each foot area. The four cam-lock buckles are adjustable and can be set to a memory-custom fit. The calf area can be expanded up to 22 inches by removing a few screws from the heat shield for those with Lou Ferrigno sized gastrocnemii or those who wear large knee braces. My Rev'it Dakar pants zipped up over the boot with a little coaxing.
Many people ask whether to get the TA or SRS model. SRS or Sole Replacement System is $50 more, has a much stiffer sole and is designed for intense motocross. The TA sole is much more comfortable to walk in and the sole can be replaced by a cobbler. The TA is recommended for GS riding. Sidi has moved away from the bootie design of other dirt boots to cut down on bulk and heat retention. They've integrated a top grain leather base material with breathable Lorica being used in the tongue area and a fast-drying Cambrelle lining. There are no claims of waterproofness with these boots but so far they have been water-resistant. There are many replacement parts available for these boots including the main hinge, inner kickstart/footpeg guards, buckles and soles.
I adjusted my gear shift lever up a notch on my R1200GS to provide better shifting for the large boot, but after a day of riding I moved it back to the normal position. The up and down ankle shifting motion loosens up after a while. Standing on the bike I felt planted as the boots gripped the pegs well as I climbed through the dust and bumps on Mount Madonna Road. These Crossfires are going to enjoy the ride to Copper Canyon next year and many more adventures to come.
Retails for $425. Available in black and white, sizes 7-15.
Available online at MotoNation, www.motonation.com or Toll Free (877) 789-4940
Posted by stephen at 4:04 PM | Comments (0)
April 13, 2008
Surf City Tech Day
Slightly groggy from the cognac the night before I woke up this morning and velcroed my boots over the stitches on my shin and gritted my teeth. I mounted the GS and rode through the Santa Cruz mountains over to Darryl Richman's house where he was holding the 8th annual Surf City Tech Day. It was the first hottest day of spring and the sun was shining. As I rode up his steep winding driveway I looked to the right and saw the southern end Monterrey Bay in the distance and on the left a bunch of old guys standing around talking and looking at old motorcycles. Some were even taking them apart and fixing them. I saw some old friends and and I made some new ones and have never seen so many valve adjustments in a row in my life.
Dude, there's an old bike. Dude, it's Darryl's R52!

I walked into the garage and there was Greg Hutchinson rebuilding the front calipers on his GS. Who do these people think they are working on there own bikes? It's crazy! Crazy I tell ya!!

No, this man is not in the middle of a severe hernia. He's syncing the carbs on this Airhead by ear. With his own ears! I'm starting to get frightened. Very frightened.

Inside my head, I asked this man, "Are you doing a valve adjustment all by yourself?" He replied, inside my head, "No, not really there will be a handful of guys that will stand behind me and tell me how to do it correctly and give me secret tips." I hope he just doesn't void his warranty!

And then an odd looking bike showed up with a large tank and a small seat.

There were toaster tanks with no toast in them.

His name is Joachim Groeger. He's 86 years old and still rides. He owns a machine shop in Redwood City and works on vintage BMWs. 'Nuff said.

David Brick smiles as Sophie waits in the background for Greg to show her how to adjust her valves.

MOA Ambassador, Darryl Richman is the Cliff Claven of vintage BMWs and that's a good thing. He is a repository of information regarding the restoration and history of these old machines. The best thing he does with all that information he acquires is that he shares it.

Then I met this guy from France named Jean. He's been hiding out in Napa Valley for ten years making wine at Opus One. At $183 a bottle I'm going to make friends with this guy and see what he brings to the next party I invite him to.

The king of Castle Drive perches on one of his non-porcelain thrones enjoying a day well done. Thank you Darryl.

After a few hours of absorbing the testosterone from the motorcyles and tools in the little paradise above the clouds I invited my two new friends from France to join me in a quest to the Corralitos Market for apple wood smoked honey glazed bacon! Yes, a Bacon Run! En francais, Course de Lard! Could the day end any better?

If you want to see the rest of the photos you will have to click on the link below.
All the photos here.
Posted by stephen at 12:06 AM | Comments (0)
April 11, 2008
Hardware Removed
Hardware Removed
Originally uploaded by Burnszilla.
After laying on the couch for seven days watching movies and Anthony Bourdain reruns I'm experiencing a little bit of cabin fever. Last Thursday, I had the plate and the thirteen screws removed from my left tibia that I fractured spirally last June in an off road motorcycling adventure. The past week is a blur and I don't remember much as I was sedated with the bung you up drug, Vicodin. I can't wait to be regular again. I have line of stitches split in two down my shin and a two-stitcher hole to one side where I presume the doctor went in to remove a screw. Currently I'm only in pain when I stand up for more than five minutes and all the blood rushes down to my leg. My circulation will get better and I have lost most of the feeling on the top of my foot above my big toe, just like the first time they went in and cut up the nerves. It will take about a year to get most of the feeling back. They say 99 percent of broken leg victims with hardware leave the hardware in. The past rainy winter in the Santa Cruz mountains reeked havoc on my hardware just above my ankle. I also figured out that the doctor who installed it used too long of screws and they protruded out the back of the bone and rubbed against the tendons on the inside of my ankle. When I moved my foot up and down and squeezed the skin behind my ankle I could feel a crunchiness. This aggravated my tendons and it felt like I had a permanently sprained ankle. I had a very noticeable limp. After the removal of the plate and screws the crunchiness is gone. From my limited walking around the house this past week I can already feel a huge difference in my leg and there is no more stiffness above my ankle. I'm quite confident that my limp will disappear. In the next seven weeks my bone will grow and refill the holes that the screws were in and my leg will be back to normal. It has been a week since I have ridden my motorcycle and I'm going a little crazy. Perhaps on Saturday I will go on a test ride to see if I'm up for the full commute to work on Monday.
Posted by stephen at 12:54 AM | Comments (0)
March 13, 2008
Santa Cruz to San Luis Obispo Ride
Here's the video for the previous blog post.


Posted by stephen at 7:02 PM | Comments (0)
February 19, 2008
SLO Ride
On Sunday, my friend Peter and I departed Santa Cruz on our way to San Luis Obispo, CA. The plan: ride roads we have not ridden, ride some dirt, eat well and have fun.
Old Hernandez Road off of Hwy 25. The goat path turns to dirt with so rocks the size of your fist scattered in soft dirt.

Riding the San Andreas Fault we take Parkfield Grade into the tiny town of Parkfield.

After a BBQ tri-tip sandwich and ortega burger we took some photos...

It's a great time to ride in California. After the rains the hills turn vibrant green, rather than the yellow straw we see in the summer. I imagine I'm riding in Ireland. Bitterwater Road is quite sweet.

Peter was falling asleep when we were riding on hwy 58 about 22 miles out of SLO. He stopped to rest for a few minutes and I went into town to gas up, get beer and check in to the motel. As I was stuffing my duffel bag with beer, my cell phone rang at the Chevron and Peter was on the stuck side of Hwy 101, 4 miles north, with and empty tank of gas. My MSR fule bottle with a liter of gas came to the rescue. My R1200 made it 220 miles on a tank (fuel spout drilled) and I put in 5.7 gallons of gas there. The 1150's range was a bit shorter.
After we checked in we polished of a 12 pack of Pacifico and walked over to our favorite Italian restaurant, Buono Travola. Carpacchio, penne ariabiata and veal along with two bottles of the Central Coast's finest red wine.

This Sangiovese was so complex I had to think about it.

After dinner we stumbled over to Mother's bar and made some friends..

It was karaoke night and I'm not shy. I convinced our new friend April to join me on stage but she got stage fright and would not sing into the mic.
Sweet Child O' Mine!

The crowd can't contain themselves. It was as if the spirit of Axl Rose had taken over my body. I wish his voice was included.

The best place in the area to have breakfast is in Santa Margarita. No relation to the other Tina's Place in McKittrick, CA.

The central coast of California is the birthplace of tri-tip. That tender triangular tip of the sirloin. It's not just for dinner around here.

Hangover cures: Vitamins, Advil and Grease...

After breakfast we headed over to one of our favorite roads in the area: Hwy 229, Creston Road. I have never taken any photos of this rollercoaster because there's no where to stop and you don't want to stop because it's so fun.
We pop out behind Paso Robles and take Estrella Road for the first time up to San Miguel. A nice find on the GPS...

After gasing up in San Miguel we rode Indian Valley Rd to Peach Tree Road. I think we saw two motorcycles and one car on the entire 38 mile stretch.

From here we flew up the the Airline hwy toward Hollister where we split up to go home.
A great Presidents Day Ride.
Posted by stephen at 9:13 PM | Comments (0)
January 23, 2008
Big Sur Ride and Camp
Sharon and I rode down south of Big Sur to Kirk Creek campground. This was Sharon's first long ride on her Buell Blast. She now wants a bigger bike.

Posted by stephen at 4:34 PM | Comments (0)
December 15, 2007
The Death of a Motorcycle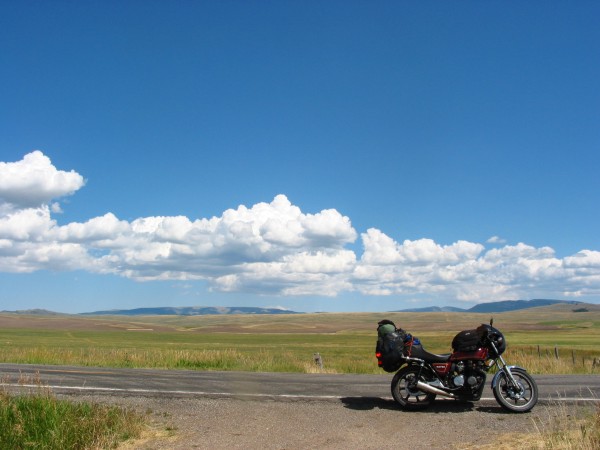 Back in the summer of 2003 Peter, my friend, and I went on a motorcycle journey of a lifetime. At the time, I was riding a 1980 Kawasaki KZ750 with bicycle panniers strapped to the back and Peter was on a 1988 BMW K75S. We rode through the Pacific northwest up to Vancouver Island and across British Columbia to Calgary to visit his brother Dave. We then traveled south through Montana, Yellowstone Park, Wyoming and Idaho. We slept under the stars, ate the finest grease at diners and met interesting people along the way. Even though Peter and I returned home safely, I can't say my KZ750 did.
As we rode westward across Idaho in the darkness, around 10 o'clock, my guardian angel watched overhead. I was in the lead flying down a two lane rural highway at 80 miles per hour as Peter followed. Suddenly, out in front of me jumped a huge elk and a smaller one following. I instantly hit the brakes and most likely hit more rear than front. Miraculously, I missed the elk and kept the bike up. All Peter saw was me, the elk, and a 50 foot patch of rubber on the road. This was our introduction into riding at night so we immediately checked into the next motel down the road. I was new to riding and now I wished I had known better. The leading cause of motorcycle deaths in the US is from collisions with deer.
The next day my engine seized in the desert, twenty-five miles north of Winnemucca, Nevada. About a month before the trip I had installed an Dyna electronic ignition on the bike. The problem was I had melted a wire that ended up grounding out on the frame so the bike kept blowing a fuse and stalling. Stupidly, I ended up bypassing the fuse by wrapping the glass tube fuse with tinfoil. The ignition eventually failed and I was only running on two of the four cylinders by the time we got to the Idaho-Nevada border. Within thirty miles, the engine was spewing oil and smoking. A while later we pulled into a Chevron gas station to assess the situation only to discover the bike was cooked. My second guardian angel came in the form of an ex-convict on parole. He and his crystal methed-out girlfriend gave me and the KZ a ride into Winnemucca in their 1976 Ford F250 as Peter followed. In the cabin of the truck I calculated that I had more teeth than the two of them put together. Good times indeed. I could not have planned the timing of the breakdown any better. We ended up throwing the bikes in a Uhaul cube van and drove home to the Bay Area the next day. A few weeks later I purchased a 1987 BMW K75S with the money from the parted-out KZ750. My addiction to BMWs began.

Posted by stephen at 9:46 AM | Comments (0)
October 23, 2007
Morro Bay, California Ride, Eat & Camp
Posted by stephen at 4:54 PM | Comments (0)
Riding the San Jose Half Marathon
Posted by stephen at 4:47 PM | Comments (0)
February 26, 2007
Sealing the 'stich
Sealing the 'stich
Originally uploaded by Burnszilla.
That infamous photo of me and my wet crotch has brought me some good fortune. I sent the photo to Aerostich and Sherry replied, wondering what happened. I explained to her that I rode in the rain with my Roadcrafter suit and it leaked. She asked for permission to use the photo in their catalog and she sent me a tube of Seam Grip to waterproof the zipper seams on my suit. It took about fifteen minutes to syringe and brush the sealer all over my zippers. I was going to put the suit to the test today in the rain. My wife woke me at 6am and prodded me to car pool with her into the valley. She didn't want me to ride in the rain and she wanted to use my body as a ticket to get her into the fast moving car pool lane. Half asleep, I gave in. Feeling a little bit like Miss Daisy, I relaxed on the passenger side while Sharon drove. My crotch protected from the elements.
Posted by stephen at 11:05 AM | Comments (0)
February 23, 2007
Helping Hurricane Katrina Victims
On my way to work each day I ride up the Old Santa Cruz Highway, now known as Glenwood Drive. For the past two years I've seen this trailer parked on the side of Glenwood Drive. It disappears and reappears every couple of months. It's quite obvious that there is a person collecting relief supplies for Katrina victims In Louisiana and Mississippi. Then they make the 2,245 mile trek to New Orleans to give to the victims and afterwards return. Katrina hit New Orleans August 29, 2005 and most of the country thinks that everything is fine down there now. It looks like they still need help in the New Orleans area. Kudos to my neighbor for helping in his own way.
Posted by stephen at 2:47 PM | Comments (0)
February 20, 2007
A Ride for Basque Food
Sunday morning my friend Darryl and I embarked on a 336 mile journey to eat. When it comes to motorcycle dining, Darryl ranks up there with the best of them. The motto on his coat of arms reads, "Ride to eat and eat to ride." We rode south on highway 1 towards Laureles Grade which threw us over onto Carmel Valley Road. Carmel Valley Road corkscrews southeastward to King City. We crossed highway 101onto Bitterwater Road which connects to highway 25, otherwise known as the Airline Highway. Northward we turned right on Panoche Road and took it past Mercey Hot Springs along Little Panoche Road. We slabbed it on I-5 northwards and exited towards our destination.
Just after two o'clock we arrived at the Wool Growers French Basque Restaurant in Los Banos, California.

Our stomachs were empty since we only had a small breakfast prior to 8 am. Adorned in protective motorcycle gear we walked into the one hundred year old building, past a bar room on the right and into the back dining hall. Two tall attractive brunettes ran the show. Long communal tables ran the length of the room and rancheros were scattered about. We were seated off to the side at our own table. "What would you like? Tri-tip, chicken or lamp chops?"
I wasn't prepared to make such a quick decision. Darryl chose the lamp chops and I followed suit. You must ask yourself: how often do I eat lamb chops and what's the name of the restaurant? When in Basque. Within moments our table started to fill up with food. Food I didn't even know was ordered. A fresh loaf of bread along with single-serving butter squares sandwiched between wax paper. Just like other restaurants the butter was cold and hard. A half liter of table wine appeared. A large serving bowl of vegetable soup and a large side of brown beans showed up.
Darryl mentioned that the last time he was there he had seen regulars put their beans in the soup. We adopted the tradition. A crispy iceberg lettuce salad with a mayonaisse based dressing appeared and then a large plate of rice with pulled chicken a few diced sundried tomatoes. I've never tasted rice this good before. There were really good french fries too, but I resisted, watching my figure. Ya, right! I was starting to worry about how we were to make it back home with a food coma. The our waitress brought us two large lamp chops, each. They were spiced to perfection. I couldn't believe all the food they brought us. Desert was a plastic cup of vanilla ice cream with the peel off paper top. The only thing missing was the disposable flat wooden spoon. Ironically, the ice cream was softer than the butter. I'm not complaining at all here. I love ice cream. The bill showed up and I was even more amazed. Fifteen dollars each, plus tip. That was one of the best meals I've had in a long time. I will be stopping their next time we come back from Yosemite on a weekend.

We hopped on our BMWs and raced the Pacheco Pass home into San Jaun Bautista and on every back road north of Watsonville in the Santa Cruz Mountains. A successful ride and a full stomach make for a great day. Click here to see all the photos.
Posted by stephen at 10:24 PM | Comments (0)
February 17, 2007
Micatech Motorcycle Luggage
This morning I dropped Sharon off at the airport. She's gone to Atlanta for ten days to visit her friends. When the cat's away the mice will play. What's a man to do? Coincidentally my Micatech motorcycle luggage arrived via FedEx at work today. It took about four weeks including shipping time to get them. I believe the demand is increasing for these cases and the company is busy with orders. When I arrived home I eagerly installed the mounting system and cases. You could tell right away that they run a tight ship at Micatech by the way all of the parts inside the two boxes were meticulously packaged, accounted for and fastened down. Taking my time, it took about three hours to get the install done. Every threaded bolt had to have a drop of Loctite Threadlocker Blue on it to ensure that they wouldn't vibrate off.

After spending a few late evenings researching what aftermarket cases to get for the GS, I decided on the Micatechs. The side loading BMW Vario cases are known to fall off the bike while riding on bumpy roads. The Jesse Odyssey bags are top loading and you would have to remove your luggage or roll bag off of the rack to access the contents. Others were known for dragging on the road if you leaned too much in corners. Leaning is fun and scratching up your new luggage would suck. The side loading Micatechs with mounting system that blends in with the style of the GS were the obvious choice. All your stuff is safe as the doors are secured by latch and key. At a capacity of 102 liters total and a weight of less than 15 pounds each, I'll be able to bring the kitchen sink along on trips. These cases will hold about double of what my old K75S Integral cases would. That makes for a happy wife on your two-up ride to Los Angeles for Thanksgiving.

I'm very happy with the cases and I can't wait to get a look at the new topcase Micatech plans to release in the summer. Rumor has it, the owner of the company is here in California on his GS riding treacherous dirt roads, putting his topcase to the test.
Posted by stephen at 12:24 AM | Comments (0)
February 15, 2007
Ride To Work, Inc. Featured Blog
Me & my old K75S
Originally uploaded by Burnszilla.
Last week I submitted my blog to be included in the
RideToWork.org
Commuter Blogs. I received an email today and now I'm listed on their site along with a photo
HERE
. Scroll down a bit. Second from the bottom.
Posted by stephen at 2:43 PM | Comments (0)
February 13, 2007
Dead iPod
Dead iPod
Originally uploaded by Burnszilla.
This morning my iPod died. Such a sad day. It froze last night on a Santana song on the way home in the rain. I put it in the dock to charge it and this morning it was completely dead. No reset and no charging image on the screen. I replaced the battery with a new one I had and that didn't change a thing. I'm going to mail it to iPod Mechanic in Michigan to get a free diagnosis. I purchased this 30 gig iPod Photo in March of 2005 and I've been using it for a minimum of 1 hour per day. I listen to my iPod while commuting into work each day. Longer usage on motorcycle trips. So its
lifespan
was 700 days and I roughly squeezed 700 or more hours out of it. I'm curious to see what the diagnosis will be. Most likely the hard drive failed. If that's the case it will be more cost effective to replace it with a brand new unit rather than fixing it.
Posted by stephen at 1:27 PM | Comments (0)
February 12, 2007
The Ring
In late July of 2000 I bicycled solo over 500 miles around Lake Ontario heading east out of Toronto towards Kingston. I crossed by ferry over Wolfe Island and headed west through New York along the south side of the lake towards Niagara Falls, crossing the border and heading home. My bike was loaded down with a handlebar bag and four panniers probably weighing about 100 pounds total. In hindsight I had over packed for the journey. I was following the Water Front Trust trail which consisted of paved trails, city streets and secondary highways. Secondary roads in Ontario give the cyclist about three inches of pavement to the right of the white line to ride on. Total concentration is essential. On day two before arriving at Brighton for breakfast I survived a near death experience. I was pedaling along a lonely stretch of highway when I steered into the loose gravel to the right of the road. To get back onto the asphalt I over compensated and steered sharply back towards the middle of the road. At the same time a family in a teal Ford Escort station wagon was right behind me. The driver swerved into the left on coming lane to avoid me. All I remember was looking down at the gold ring on my left little finger, hearing tires screech and a flash of teal fly by. Between the car and my left handlebar were about four inches. I regained my heading back to the right side of the road and the Escort driver now in front of me waved out his window to make sure I was okay. I waved back to let them know I was fine. After what had happened set in, I was overwhelmed with emotion and began to cry. I pedaled onwards to Brighton to find a greasy diner to have breakfast.
The ring on my left finger was the my grandmother's gold wedding band that I inherited. I always wore it as a good luck charm and to remember her by. Perhaps that day she was my guardian angel and helped me escape disaster. Today, I still wear that wedding band; it was enlarged to fit my ring finger back in July 2001 when I married Sharon.
Posted by stephen at 3:59 PM | Comments (1)
February 10, 2007
'Stich Crotch
Got Crotch?
Originally uploaded by Burnszilla.
Sharon and I went for a very wet ride today to meet some
ADVrider
friends for lunch at Alice's Restaurant in Woodside. Along the coast there wasn't much rain but we got soaked on the ride back along Skyline. One of the weak points of the
Aerostich Roadcrafter
one piece suit is the zippered crotch. It leaks. It gets cold down there and shrinkage occurs. I should take the time to apply some SeamGrip or bees wax to the the zipper to keep the water out. Then it won't look like I had an accident.
Posted by stephen at 11:47 PM | Comments (1)
February 9, 2007
Great Motorcycle Quotes and Wisdom
Four wheels move the body. Two wheels move the soul.
Most motorcycle problems are caused by the nut that connects the handlebars to the saddle.
Life may begin at 30, but it doesn't get real interesting until about 110 mph!
You start the game of life with a full pot o' luck and an empty pot o' experience... The object is to fill the pot of experience before you empty the pot of luck.
If you wait, all that happens is that you get older.
Midnight bugs taste best.
Saddlebags can never hold everything you want, but they CAN hold everything you need.
Never try to race an old geezer, he may have one more gear than you.
It takes more love to share the saddle than it does to share the bed.
The only good view of a thunderstorm is in your rearview mirror.
Never be afraid to slow down.
Don't ride so late into the night that you sleep through the sunrise.
Sometimes it takes a whole tankful of fuel before you can think straight.
Riding faster than everyone else only guarantees you'll ride alone.
Never hesitate to ride past the last street light at the edge of town.
Never do less than fifty miles before breakfast.
If you don't ride in the rain, you don't ride.
A bike on the road is worth two in the shed.
Respect the person who has seen the dark side of motorcycling and lived.
Young riders pick a destination and go... Old riders pick a direction and go.
A good mechanic will let you watch without charging you for it.
Sometimes the fastest way to get there is to stop for the night.
Always back your bike into the curb, and sit where you can see it.
Work to ride & ride to work.
Whatever it is, it's better in the wind.
Two-lane blacktop isn't a highway - it's an attitude.
When you look down the road, it seems to never end - but you better believe it does.
Winter is Nature's way of telling you to polish. (unless you live in Southern California)
Keep your bike in good repair: Motorcycle boots are NOT comfortable for walking. ( For Harley Riders)
People are like Motorcycles: each is customized a bit differently.
Sometimes, the best communication happens when you're on separate bikes.
Good coffee should be indistinguishable from 50 weight motor oil.
The best alarm clock is sunshine on chrome.
The twisties - not the superslabs -separate the riders from the squids.
When you're riding lead, don't spit.
A friend is someone who'll get out of bed at 2 am to drive his pickup to the middle of nowhere to get you when you're broken down.
Catching a yellow jacket in your shirt at 70 mph can double your vocabulary.
If you want to get somewhere before sundown, you can't stop at every tavern.
There's something ugly about a NEW bike on a trailer. ( Amen)
Don't lead the pack if you don't know where you're going.
Practice wrenching on your own bike.
Everyone crashes. Some get back on. Some don't. Some can't.
Don't argue with an 18-wheeler.
Never be ashamed to unlearn an old habit.
A good long ride can clear your mind, restore your faith, and use up a lot of fuel.
If you can't get it going with bungee cords and electrician's tape, it's serious. ( Mr Bungee lives in Ohio)
If you ride like there's no tomorrow, there won't be.
Bikes parked out front mean good chicken-fried steak inside.
Gray-haired riders don't get that way from pure luck.
There are drunk riders. There are old riders. There are NO old, drunk riders.
Thin leather looks good in the bar, but it won't save your butt from "road rash" if you go down.
The best modifications cannot be seen from the outside.
Always replace the cheapest parts first.
You can forget what you do for a living when your knees are in the breeze.
Patience is the ability to keep your motor idling.
Only a Biker knows why a dog sticks his head out of a car window.
Keep the paint up, and the rubber down!
There are two types of people in this world, people who ride motorcycles and people who wish they could ride motorcycles.
Never ride faster than your guardian angel can fly.
"It is good to have an end to journey towards; but it is the journey that matters in the end."
Ride as if your life depended on it !!
Posted by stephen at 1:42 PM | Comments (0)
February 8, 2007
Riding in the Rain
Three years ago when I walked into the office with my wet gear on co-workers would say, "Did you ride in today?"
"No, I walked here in my motorcycle gear." Now they don't say anything. They just think I'm crazy. Riding in the rain is not crazy if done correctly. Actually I find it quite relaxing, because you have to ride as smooth as possible.

I learned the hard way a few years ago as I approached a down hill traffic light in Seattle in the rain with a fully loaded K75S. I forgot to stay out of the center of the lane where an oil patch accumulates from cars leaking. I slid down the hill and used all of my skill to try and keep the bike up, but gravity won. At a low speed I dropped the bike on the right side. Two guys on the corner came over to help me lift it back up. The fairing and signal light were smashed. The most painful part of that trip was riding home and looking down at my damaged bike. I now stay in the right or left tire tracks part of the lane and watch out for slicker than snot oil patches, road paint and manhole covers.

I believe that all motorcyclists should ride in the rain to practice the skill and become confident at it. If you are on a long motorcycle trip, you have no control over the weather. Are you going to stay in your motel in Willits for the rest of the vacation and wait for the rain to pass? I sure wouldn't. Some people don't want to ride in the rain because it dirties the bike. On the other hand, I think it's a great way to wash your bike.
Get out there, ride in the rain.

When you're driving in your car or truck, you're protected from the rain. When you're riding a motorcycle, you're exposed to the elements. However, motorcycles do offer some advantages in wet weather. They provide a superior view of the road, easy maneuverability, and more escape routes from any potentially dangerous situations.

If you're riding in the rain, remember the following tips from the Motorcycle Safety Foundation:

* Aim for smooth control. Be gentle with your brakes and throttle, but balance your grip. When you're riding in the rain, aim to complete your turns before you accelerate.

* Avoid last-minute reactions whenever possible. In wet weather, you must plan ahead to determine when you will need to accelerate or brake. Using engine braking for corners and junctions will reduce the risk of skidding.

Avoiding hazards is extremely important in the rain. Watch out for the following obstacles when you're riding your motorcycle in wet weather:

* Slick concrete surfaces
* Manhole covers
* Railroad tracks
* Puddles
* Potholes
* Oil spills

When you're purchasing tires for your motorcycle, avoid tires that are labeled as "long-lasting" if you plan to do a lot of riding in wet weather. Many motorcycle owners think this purchase is a good way to save money. However, these tires are typically less tacky and can't provide enough traction to keep you safe in wet weather.
Posted by stephen at 4:01 PM | Comments (1)
February 7, 2007
Bring My Wallet
There is an old saying that BMW stands for 'Bring My Wallet' and I experienced it in a different way. The electronic gas gauge on the new BMW R1200GS is know to be a little be wacky to say the least. I had my original gas sensor strip replaced under warranty a few weeks ago. I have not fully tested out the full range of the bike by riding until I run out of gas. On my way home after work, at the 50 miles until empty mark the orange warning triangle lit up and the the word FUEL! flashed on the screen. My range was decreasing quickly and I decided to pull into the Chevron in Los Gatos to fill up. As I pulled into the gas station my range was six miles and I had forgotten my wallet on my desk at work. I called Sharon to see if she could drop by the gas station on her way home and buy me some gas. She was twenty minutes away and I couldn't wait that long because there was a Big Redwood Park board meeting I had to attend. I asked a couple walking their dog if I could borrow five bucks and I would return it to them later, but they had no cash on them. I looked in the pockets of my Aerostich suit and found $1.52 in coins allowing me to buy .53 gallons of 89 octane. I get about 40 miles per gallon so that should get me home which is twelve miles. I turned the key and my range jumped up to 38 miles. I made it home safely.

In the morning Sharon left me her credit card so I could fill up on the way to work. I rode twelve miles back to the same gas station and filled up the tank to the brim with 4.3 gallons. The tank holds 5.3 gallons total. So, I figured that the range actually counts down to the one gallon reserve level. When it hits zero I have one gallon of gas and about 40 miles to find some more. Most GS riders ignore the gas gauge and use the old school method, using the tripmeter to count the miles they have gone. You would think on a bike this expensive that BMW would have tested the gas gauge before slapping it on the GS and putting it out to market. It has been said before that BMW lets their customers test their bikes for them. I'll continue to test out the GS for them but meanwhile, I've decided to store an emergency ten dollar bill under the seat for gas when I forget my wallet.
Posted by stephen at 1:05 PM | Comments (0)
February 6, 2007
BMW R1200GS
About a month ago I purchased a new 2007 BMW R1200GS. I've been drooling over this bike since it came out in 2004. I would dream at night of riding this machine on log adventures. It's amazing how much motorcycle technology has advanced in 20 years. My trusty 1987 K75S took me many places since 2003 and I managed to travel 58,000 miles on it. Selling it was like giving a dog that you owned for four years away. The new dog has made me forget the old dog quickly: the suspension is superior, the boxer engine has a few more horses in it and it's a dual-sport. The list of improvements over my old bike go on. Instantly the GS offers the opportunity to wander onto a road you've never been without worrying about it turning to gravel. It has put a huge grin on my face during my daily commute to work. More adventure stories are sure to follow.

BMW marketing jargon...

Where you're going, there are no zip codes.
The R 1200 GS answers the call of the wild with a 100 blazing horses. The Boxer engine also produces 85 lb/ft of torque, giving it serious grunt as well. The Telelever front suspension keeps road rides smooth and a reliable shaft drive means your odometer will spin around like a slot machine. Whether it's bombing down fire roads or ripping around the twisties and snacking on unsuspecting sport bikes, one thing's for sure: the R 1200 GS devours any road you throw at it.
Posted by stephen at 12:35 PM | Comments (0)
January 12, 2007
Teddy Bear

by Red Sovine
I was on the outskirts of a little southern town,
Trying to reach my destination before the sun went down.
The old CB was blaring away on channel one-nine
When there came a little boy's voice on the radio line.
And he said, "Breaker, one-nine, is anyone there?
Come on back, truckers, and talk to Teddy Bear."
Well, I keyed the mike and I said, "Well, you got it,Teddy Bear."
And the little boy's voice came back on the air.
"'Preciate the break. Who we got on that end?"
I told him my handle, and then he began:
"Now, I'm not supposed to bother you fellas out there,
Mom says you're busy and for me to stay off the air.
But, you see, I get lonely and it helps to talk
'Cause that's about all I can do. I'm crippled and I can't walk."
I came back and told him to fire up that mike
And I'd talk to him as long as he'd like.
"This was my dad's radio," the little boy said,
"But I guess it's mine and Mom's now 'cause my daddy's dead.
Dad had a wreck about a month ago.
He was trying to get home in a blinding snow.
Mom has to work now to make ends meet
And I'm not much help with my two crippled feet.
She says not to worry, that we'll make it all right,
But I hear her crying sometimes late at night.
You know, there's one thing I want more than anything else to see.
Aw, I know you guys are too busy to bother with me,
But, you see, my dad used to take me for rides when he was home
But I guess that's all over now since my daddy's gone."
Not one breaker came on the old CB
As that little crippled boy talked with me.
I tried hard to swallow, the lump just wouldn't stay down
As I thought about my boy back in Greenville town.
"Dad was gonna take Mom and me with him later on this year.
Why, I remember him saying, 'Someday this old truck'll be yours, Teddy Bear.'
But I know I'll never get to ride an 18-wheeler again,
But this old base will keep me in touch with all my trucker friends.
Teddy Bear's gonna back on out now and leave you alone
'Cause it's about time for Mom to come home.
But you give me a shout when you're passing through
And I'll sure be happy to come back to you."
Well, I came back and I said, "Before you go ten-ten,
What's your home-twenty, little CB friend?"
Well, he gave me his address and I didn't once hesitate
'Cause this hot load of freight was just gonna have to wait.
I turned that truck around on a dime
And headed straight for Jackson Street, 229.
And as I rounded the corner, boy, I got one heck of a shock--
Eighteen-wheelers were lined up for three city blocks!
Why, I guess every driver for miles around had caught Teddy Bear's call
And that little crippled boy was having a ball.
For as fast as one driver would carry him in,
Another would carry him to his truck and take off again.
Well, you better believe I took my turn at riding Teddy Bear
And then I carried him back in and put him down in his chair.
And, buddy, if I never live to see happiness again
I want you to know I saw it that day, in the face of that little man.
We took up a collection for him before his mama got home
And each driver said goodbye and then they were all gone.
He shook my hand with a mile-long grin
And said, "So long, trucker, I'll catch you again!"
I hit that interstate with tears in my eyes
And I turned on the radio and I got another surprise.
"Breaker, one-nine," came a voice on the air,
"Just one word of thanks from Mama Teddy Bear.
We wish each and every one a special prayer for you
'Cause you just made my little boy's dream come true.
I'll sign off now before I start to cry.
May God ride with you. Ten-four, and goodbye.
Posted by stephen at 11:53 PM | Comments (0)
February 15, 2006
<> Motorcycles OK
I commute to work five days a week, 30 miles each way on my motorcycle. Today on highway 85 south, heading home I roughly counted all of the slow moving cars I passed while I was in the commuter lane. I figured I passed about 3000 cars just on the 12 miles of highway 85. As I wizzed by all those practically parked cars I wondered if any light bulbs had gone off in their heads. "Hey, If I commuted on a motorcycle I wouldn't be stuck in this traffic!"
I find it funny that people will go out of their way to learn how to scuba dive, and then only take part in that sport maybe twice a year if they are lucky. In about the same time it takes to get SCUBA certified, one can take a MSF course instead and partake in motorcycling almost every day.
I'm becoming an advocate of riding to work. I just love the www.ridetowork.org propaganda cards you can download and print.
Ride to Work - Transportation Facts
Posted by stephen at 7:14 PM | Comments (1)