« MotoGP at Laguna Seca | Main | Papa »
October 1, 2005
The High Cost of Underwear
I'm back.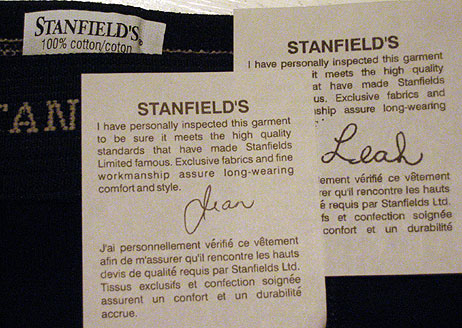 I guess it's a good time to replace your underwear when you can see daylight through the crotch. I'm 35 and my mother still purchases my underwear for me. Oh, don't laugh at me. I can't get this underwear without the help of my mother. I like to keep at least 12 pairs of boxer-briefs in the top drawer of my dresser. That's enough to get me to get to the furthest possile laundry day during earthquakes or black-outs. Plus, the more you have, the less they get worn, so you can get more miles out of them. My current outgoing set of Stanfield's are on their sixth year. They are the only underwear I will wear, besides my sporty fave, the Ex Officio which I will talk about some other time. Meanwhile, the Stanfield's are 100% cotton and are tight enough to hold the boys in place. It's all about support. Over the years the fabric will relax and lose its tenacity. I bought my first pair of Stanfield's at Chalkies clothing on Spadina Avenue in Toronto. Annually in the fall, a group of fraternity brothers would visit the winter clothing store mecca. Since I have moved to the states I have not been able to find a boxer-brief that had good, thick, high quality, cotton, ones that wouldn't be see-through in a couple of washes or was a 50/50 blend. I looked online too and went to the Stanfield's website and phoned them at their offices in Truro, Nova Scotia. But I couldn't find any stores online that would ship to the United States. My mother was planning a visit so I placed an order with her to purchase seven pairs of medium Stanfield's from Sears in Sault Ste. Marie. Priced at $14 CDN each the bill can add up quickly when you purchase multiple pairs, but look how long they last. I got 6 years out of them for $12 back in the day, so that's $2 per year divided by all those days equals 0.00547945205 canuck cents a day for your scivvies. Not too schabby. As I was unpacking the undearwear from the bags that they came in, an "Inspected by" tags fell out from behind the shorts, officially signed my Jean and Leah. It appears Jean was working the black underwear assembly line and Leah was working the gray gitch that glorious day in Truro. It must have been cold out. I unpacked all the gotchies and put them in the washer machine on warm with a little soap. I hate wearing brand new clothes with that brand new sheen on them. A good wash and dry, especially with cotton with puff and soften the fabric up nicely.
I also highly recommend that you do not purchase white underwear. First of all you will never be accused of wearing tighty-whities, when you are wearing nothing but solid gray or black. Whites show the stains to predominantly. Remember that time when you where getting naked just before having sex with your lover. You threw your underwear nonchalantly onto the floor and they fell onto the carpet with the interior crotch exposed for your naked lover who sitting naked on top of the bed to see. I'm not saying this ever happend to me but I'm sure that your undearwear with a bigger skidmark than a five car pile up ruined the mood. Whites are for those who shave their ass and use wet baby wipes to clean up their bottoms after bowel movements. Anyways you get my point.
Black and gray underwear also helps you differentiate the new and used underwear on a trip. I think I'm going to use the Sharpie laundry marker this time and number them.
I wanted to make sure that the ladies who inspected my underwear were aware of my undying gratitute to there service in the undergarment industry, so I sent them a thank-you email to: inquiries@stanfields.com.

Subject: Thanks to Leah & Jean
I just wanted to thank Leah and Jean for inspecting my Stanfield's boxer-briefs. Please let them know that the fine work that they do is appreciated.
Regards,
Stephen Burns
A fine Canadian in Los Gatos, California

If you would like to get your hands on a pair of new Stanfield's from Canada, contact my mother.
Posted by stephen at October 1, 2005 3:28 PM
Comments
Post a comment
Thanks for signing in, . Now you can comment. (sign out)
(If you haven't left a comment here before, you may need to be approved by the site owner before your comment will appear. Until then, it won't appear on the entry. Thanks for waiting.)