« March 2005 | Main | May 2005 »
April 26, 2005
Border Run
I'm travelling north to the Canada-US border tomorrow on my motorcycle to renew my work visa. This time I'm staying off of the interstates and taking the scenic route. I will be travelling up the coast of Oregon to Portland where I'm staying at a friend's place. On Day two I will go up the east side of the Olympic peninsula and take the Port Townsend-Keystone ferry. I should hit US customs by 3pm. After that I'm going to head east through North Cascades National Park heading towards Pullman, WA. Day three I will ride through Hells Canyon along the Oregon and Idaho border. There are supposed to be some spectacular twisties along this route. I should make it home by day four or five depending on my pace and how I feel. It looks like I'll be putting over 2600 miles on the bike with this trip. On the way back in northern California the odometer on the BMW K75S will hit 100,000 miles! I'll take lots of photos. Until then. Stephen.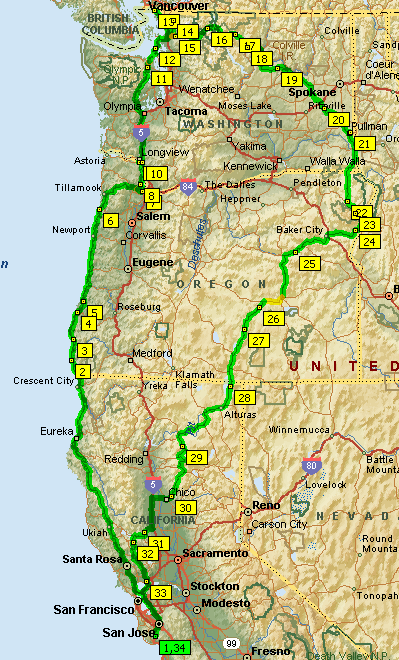 Posted by stephen at 2:56 PM | Comments (0)
April 21, 2005
Love on the Rocks, is Hard on my Back.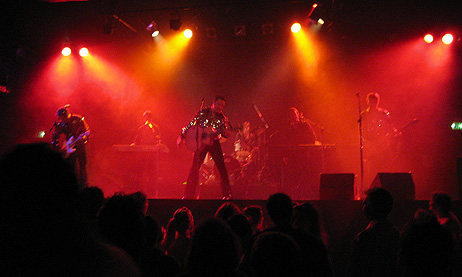 Last Friday, Sharon, her friend Amy and I went to the Catalyst in Santa Cruz to see Super Diamond. They are a Neil Diamond tribute band. The crowd consisted of a hodge-podge of cougars who where out on the prowl for gen-x's like myself who grew up listening to Neil Diamond because their parents listened to Neil. As the band came on I stood up and walked closer to the stage and started laughing to myself as Surreal Neil started singing. It was funny. Our parents back in the seventies would have seen Neil in concert, now the children of Neil fans have to go see the tribute band. Actually, you still can see Neil Diamond in concert. The "Jazz Singer" is on a world tour right now. The sad ending to this story is that we left at 11:30pm during the intermission because Sharon was tired. We missed "Sweet Caroline" and "Cracklin' Rosie" much to my chagrin. I guess we're getting old.
Posted by stephen at 9:02 AM | Comments (0)
April 15, 2005
The 1947 - 1998 Chevrolet & GMC Pickup Message Board Network
Burnszilla's Avatar
Burnszilla Burnszilla is offline
Registered User

Join Date: Oct 2003
Location: Los Gatos, CA
Posts: 6
Gasoline Smell in Cabin
Every time I fill up the tank on my truck the inside cabin smells of gas. I got home and looked behind the seat but could not find any leaking gas. The gas smell is not as prominent when the tank is half full. I did replace the gas cap with a new one. That stopped that gas from running down the side of the truck.
Any ideas?
__________________
Regards,
Stephen
1967 Chevy C10 Longbed
Edit/Delete Message Reply With Quote Quick reply to this message
Burnszilla
View Public Profile
Send a private message to Burnszilla
Send email to Burnszilla
Visit Burnszilla's homepage!
Find all posts by Burnszilla
Add Burnszilla to Your Buddy List
#2 Report Bad Post
Unread Today, 07:21 PM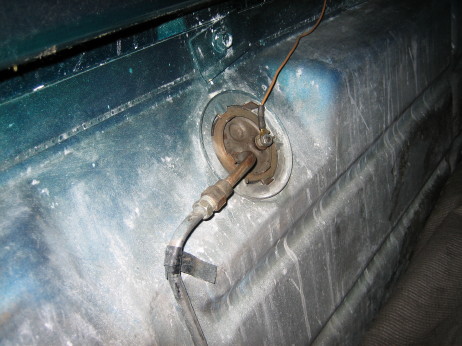 Longhorn Man's Avatar
Longhorn Man Longhorn Man is offline
like him, only sluttier

Join Date: Jan 2001
Location: Columbus Ohio
Posts: 28,242
I'll bet a punch in the gut that the spot where the filler neck goes into the tank has a real small leak. This is common, and preventable. When you gas up, notice that you are probably leaning on the pump handle...this puts too much of a load on the joint.
You can have the tank removed, steam cleaned, and repaired at many radiator shops, and I would assume for less than 50 bucks.
__________________
70 C/30 Longhorn, Caddy fragments/TH350
Back to plan B... POS 89 town car
72 C/20 longhorn, parts b!tch
The Longhorn Web Site
If I don't meet your standards, then you need to lower your standards.
Reply With Quote
70c10's Avatar
70c10 70c10 is offline
67-72 Addict!

Join Date: Feb 2002
Location: Perry Hall , Maryland
Posts: 4,163
Also check the O-ring on top of the sending unit.
__________________
Jim
1970 C/10 Fleetside w/Ghost Flames
355/350 Turbo w/shift kit
Hooker Super Comps
12 Bolt w/3:73 gears- Eaton Posi
Comp Cams XE262, Road Demon 625 and soon to have Sportsman II heads
http://tjazcustoms.freeservers.com/index.html
Reply With Quote
Posted by stephen at 7:58 PM | Comments (0)