« The High Cost of Underwear | Main | It's Hot in the Hot Tub! »
October 13, 2005
Papa
On Thursday my Grandfather passed away.
BELL, Gene - Peacefully at the General Hospital
with his family by his side on Thursday, October
6, 2005 at the age of 81. Husband of Bernadette
Bell. Stepfather of Robert Martin (Nancy) and
Susan O'Leary. Proud Papa of Rob, Ted and Wesley
Martin, Erin, Andrew, Mark and Sean O'Leary. Also
step-father of Gary Burns (Leigh Campbell) and
Ronald Burns (Judy) and their children, Brian and
Stephen Burns and J.D. Burns. Special friend of
Anne and Cliff Sanderson. Brother-in-law of Del
Belanger, Robert Bouillion (Cecile) and Theresa
Eaton. Uncle of many nieces and nephews. Friends
may call at the Arthur Funeral Home & Cremation
Centre on Sunday, October 9, 2005 from 12:00 noon
until time of funeral service in the chapel at
2:00 p.m. Rev. Bruce McLeish officiating. Memorial
contributions to the Group Health Centre Trust
Fund would be appreciated by the family.
www.arthurfuneralhome.com
At the going down of the sun
And in the morning,
We will remember them.
Members of the Royal Canadian Legion are requested
to assemble at the Arthur Funeral Home & Cremation
Centre on Sunday, October 9, 2005 at 2:00 p.m. for
a service for the late Eugene Bell.
I was one of three who gave a eulogy at the funeral service. Below is my speech...
Papa, not Grandpa. Papa. I believed we called him that because my father called his Italian grandfather Papa also. It has some Hemingway-eskness to it now as I look back. Technically speaking Gene Bell was a stepfather and a step-grandfather, but he preferred not to use the "step" prefix. Some of the bonds he created with his children and grand children are much thicker than blood.
Papa was good at many things.
He was a master distiller. Ruby cabernet, dandelion wine and chokecherry wine come to mind. One day my brother called me. He was all excited that he obtained a coveted bottle of the chokecherry wine. I recall seeing these old bottles of Seagram's 7 in the rafters of his workshop in the basement, filled with a dark red liquid. Usually the cap was almost hermetically sealed with the finest masking tape that was stained from the wine oozing out the cap. That evening Brian opened the bottle of wine and drank it. He did not awake until 5pm the next day.
Papa was an outdoorsman. He loved to go hunting. He enjoyed fishing whether it was by boat or by snowmobile on ice.
Papa was a great gift giver. Gifts from Papa and Bernie at Christmas were the best. I never once received a pair of socks or a sweater. All the gifts were battery operated and had motors like remote control fire trucks and motorcycles. After a few months my curiosity got the better of me and I ended up dismantling all the toys to see what was in them and how they worked. This did not go unnoticed and the following year, at the age of 10, I received a real set of Canadian Tire screwdrivers and pliers.
Papa was best at telling stories. He wasn't much of a listener, but he sure could tell you some pretty cool stories. Now that I think of it some of Papa's stories parallel some of Papa Hemingway's fables. I remember an ice fishing story about catching the dreadful ling fish in Northern Ontario. However, I will not miss the story of Ronnie wanting to smoke a cigarette at the house. I've heard it too many times. I've heard many stories about his troubles with his Mazda van and the customer service he received. Poor Bernie must have heard them a hundred times.
When I was in my twenties I started taking interest in World War 2 history. I would visit Papa and we would sit at the kitchen table and sip ruby cabernet and I asked him to tell me about the war. His stories were fascinating and vivid. They were much more interesting and detailed than the war documentaries on the History channel. He once explained how after they took Normandy, his group was humping it up the roads along the coast heading north. French women stood along the rural roads with glasses of milk for the invading troops. Their sergeant yelled, "Do not drink the milk, it could be poisoned," since these women were previously acquainted with the German soldiers who occupied the area. One of his buddies immediately snatched a glass of milk and quaffed it down and yelled, "The milk is okay Sarge!" I also got out of him many other battle stories and the one of how he got the bullet wound on his brow. I'm sure many of you have already heard it.
In 1999 while bike riding along the shore of Lake Ontario in Toronto my friend and I stumbled upon the Legion Branch 344, home of the Queen's Own Rifles. The Regiment Papa belonged to. We couldn't resist, and within moments we were sitting in the Legion at the bar, drinking draft beer and talking to veterans.

A few months later, on the evening of my initiation at that branch of the Royal Canadian Legion, Papa and Bernie were in the area visiting their children Susan and Bob. So, Papa met me at my place in downtown Toronto, and we went for dinner at an Italian restaurant. He was wearing his Queen's Own Rifles jacket and his 50th Anniversary D-Day cap. Afterwards, we headed down to the Legion where he ever so proudly, sponsored my membership and paid for the first year. He said, "I'm only paying for one year, you'll have to pay the dues for rest of them." I am still a member today.
On the way back home in the car, I regretfully mentioned to him that my brother and I, knew the whereabouts of our biological grandfather in Niagara Falls. We were thinking of going there to meet him. Papa piped up loudly, "Now why in the hell would go and do that! I'm your Grandfather! I'm your Grandfather!"

He was right.
Papa will be greatly missed by all of his grandchildren.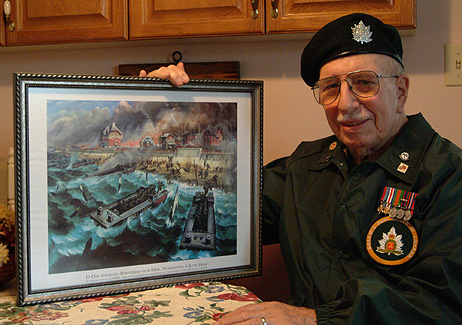 Posted by stephen at October 13, 2005 7:43 AM
Comments
Post a comment
Thanks for signing in, . Now you can comment. (sign out)
(If you haven't left a comment here before, you may need to be approved by the site owner before your comment will appear. Until then, it won't appear on the entry. Thanks for waiting.)