« October 2005 | Main | December 2005 »
November 11, 2005
People Who Don't Signal are Idiots
This morning on the ride to work up the 85 a blue Ford Explorer cut me off as he merged into the left lane. He didn't signal and obviously he didn't even look. I had to slam on my brakes and move to the left to avoid him hitting me while moving 70 miles per hour. I was really pissed off so I decided to follow him to his workplace and give him a piece of my mind. He pulled off to go into Mountian View and I followed him closely. I wanted to make him nervous. At the first stoplight we came to I was on his right and I honked to get his attention. He looked like a dot com sales guy or project manager. He rolled down the passenger window, fully aware of what I was honking about. I yelled at him, "You almost killed me back there! Don't you look before you change lanes?" He said he saw me but I was going fast. Although in the middle of forcing me off of the road he didn't even correct himself and move out of the way. He kept on coming at me. Luckily, I drive with the "They're out to getcha" mentality. I would have enjoyed punching the guy in the face or kicking the side of his door in, but I can't do stuff like that because my new license plate is not as inconspicuious as it used to be.

Many drivers don't know what that long piece of plastic is sticking out of the steering column on the left. It's a signal light! Learn how to use it! Also, look before you change lanes; including your blind spots.
Posted by stephen at 5:01 PM | Comments (0)
November 10, 2005
Justice the Dalmatian
A lot of people ask me, "How's Justice doing?" Well, she's twelve and a half years old now. She barks at any noise that happens in the house; even at me coming down the stairs. So we bought an anti-barking collar that shocks her when she barks. Now she just growls. She pisses her bed and shits on the floor once in a while. Somedays she is senile. This morning she was acting all weird. She came upstairs, which she rarely does and stared out the window in the front door. I put her outside and she just stood in the driveway in one spot staring. It was a little cold outside and usually she likes to come back inside to the warmth, but I had to coax her to come back inside. Sometimes late at night she comes upstairs too. She looks frightened. She takes Glucosamine and Chondroitin Sulfate, Nzymes and a multi-vitamin daily. I think I'm going to start giving her Gingko Biloba to help with her dementia. Justice enjoys sleeping by the fire of the wood burning stove as she twitches and growls in her sleep. She's chasing rabbits in her dreams or maybe squirrels. She's a good dog.
Posted by stephen at 11:35 AM | Comments (0)
November 9, 2005
Santa Cruz Surfer
Sunday we took Justice for a walk along the ocean near the Lighthouse. I took a few photos. I'm going to start mixing up my long commentaries with simple photo entries too. Just to keep it fresh.
Posted by stephen at 4:03 PM | Comments (0)
November 2, 2005
It's Hot in the Hot Tub!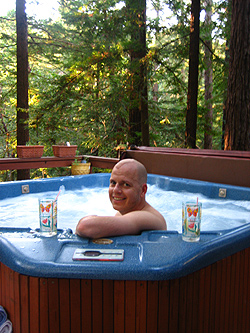 A few months ago we went shopping for a hot tub but soon realized that they're an expensive item to purchase. So, I set up an RSS feed on Thunderbird to show me all the hot tubs for sale on craigslist.org. I came across one tub that was at the side of a five million dollar home off of University Avenue in Palo Alto. It looked okay to me and I offered the guy $100 for it. I called a Spa Mover who I also found on craigslist to go and pick it up for $250. He went to the house but was not able to move the hot tub because the house was undergoing a renovation and there was a three foot deep trench travellling around the house and the tub. Mike the spa mover said it wasn't that great of a tub anyways. So, I told him I was looking for a used tub in good shape. He just so happened to have a Jacuzzi brand tub in his warehouse that someone was storing but did not pay the rent for storage. The person was unable to be contacted so he said I could buy the tub for $1000, pay for the storage fees outstanding of $250 and a delivery fee of $250. New about four years ago the tub was valued at about $8000. So, I went to the warehouse, checked out the tub and closed the deal. Mike delivered the hot tub a few days later and slid it down two by fours onto our back deck. Prepared as I usually am, I reinforced the deck over the summer with three more posts and beams; overkill for the weight of a hot tub. We purchased sixty feet of six guage wire, a fifty amp single pole breaker switch for the panel and a GFCI cutoff switch box to place five feet from the tub. So, Saturday morning I crawled under the house and ran the wire from the tub to the breaker panel. While in the crawl space after drilling holes to pass the wire through, I turned around on my belly and wacked my bald head on the corner of the galvanized cold air return duct. Ouch. I crawled out the darkness like a Marine at boot camp with rounds firing overhead. Blood was dripping down for forehead and I ran up to the washroom and yelled, "Need first aid!" to Sharon. After bandaging up my two one and a half inch gouges I went back to work and wired the tub up. I saved the breaker panel for last because it just made sense. In the past I've always been afraid of the panel, but on Saturday it all changed. Don't fear the panel. I shut off the big main breaker and all the power went off in the house. I shifted all the Zinsco breaker switches up and the 50 amp switch for the tub fit in the very last slot. I also replaced the only single 15 amp breaker with a new double one so if I have future electrical additions, I now have a free switch for it. I got it all wired up in about twenty minutes, turned on the main power and nothing exploded. This was good. We filled the tub and flicked on the cutoff switch and she started right up. Half of the jets were working so I went on SpaForums.com and found out that sometimes air builds up in the pump and you have to bleed it out. I undid the skirt and bled the pump and the jets started working. Sweet. We followed the spa start up directions, added the bromine chemicals and started up the spa. I'm learning all about pH, alkalinity and calcium hardness. Our quality of life has increased at least ten fold. It feels like we are on vacation as the tub sits under a redwood grove. Perhaps the novelty will wear off in a couple of months, but for now we're having a lot of fun.
Posted by stephen at 8:21 PM | Comments (0)