January 12, 2009
Arai XD3 Review
I've been riding with my new Arai XD 3 crossover helmet for over a month now and it's become my preferred brain bucket over my Schuberth C2. There are a couple of features on this helmet that make it a new favorite. The sun shade peak blocks the sun's blinding rays late in the day. The fit is great, especially snug around the cheeks, sadly preventing me from chewing gum. The cheek pads are removable too for emergency helmet removal for paramedics in case of an accident. Ventilation is very good and the interior padding has channels for air flow. From what I've heard the previous version, the XD had fog up issues in cold weather, but I haven't had any problems with the XD3. I love that I can ratchet open the shield to allow different amounts of air flow through the front. The XD3 in size XL weighs in at 1740 grams, a big difference from my 1900 gram Schuberth flip up. The helmet also allows greater peripheral vision with it's wider and taller front opening. Finally, the helmet is amazingly quiet while riding at high speeds. Cross winds can catch the sun shade and push your head around a little, but that's it. Overall, I'm impressed with the Arai XD 3 and it's quality.

Available online at Riders Discount in sizes XS-XXL for $489.56 with Free Shipping! or toll free 1-866-931-6644.

Posted by stephen at 5:11 PM | Comments (0)
November 12, 2008
Two Up to the Taj Mahal
This past June on our trip to India my wife and I rode a Royal Enfield Bullet from New Delhi to Agra to see the Taj Mahal. We were going to ride to Jaipur to complete the golden triangle but I got sick from the food and we just rode back to Delhi with a fever in monsoon rains. Quite an adventure.
Photos from the India trip can be found here: India Top 75 Photos
And Nepal afterwards here: Nepal Top 75 Photos
Posted by stephen at 10:29 AM | Comments (0)
October 20, 2008
Sidi Crossfire TA Boot Review
Sidi Crossfire TA
Originally uploaded by Burnszilla.
After breaking my leg last year while dirt riding on my GS in leather dual sport boots, I figured it was time to step up the protection in the boot department. I read and researched opinions, reviews and articles on the ultimate dirt riding boot. Over and over, one name kept coming up: the Sidi Crossfire TA.
The Crossfire's rigid heel is anatomically shaped for maximum protection and my size 12 feet fit perfectly into the size 46 boots feeling comfortable and secure. The tip of the toe is covered with plastic to protect the base material from abrasion. There are plastic shift and brake lever guards on the top of each foot area. The four cam-lock buckles are adjustable and can be set to a memory-custom fit. The calf area can be expanded up to 22 inches by removing a few screws from the heat shield for those with Lou Ferrigno sized gastrocnemii or those who wear large knee braces. My Rev'it Dakar pants zipped up over the boot with a little coaxing.
Many people ask whether to get the TA or SRS model. SRS or Sole Replacement System is $50 more, has a much stiffer sole and is designed for intense motocross. The TA sole is much more comfortable to walk in and the sole can be replaced by a cobbler. The TA is recommended for GS riding. Sidi has moved away from the bootie design of other dirt boots to cut down on bulk and heat retention. They've integrated a top grain leather base material with breathable Lorica being used in the tongue area and a fast-drying Cambrelle lining. There are no claims of waterproofness with these boots but so far they have been water-resistant. There are many replacement parts available for these boots including the main hinge, inner kickstart/footpeg guards, buckles and soles.
I adjusted my gear shift lever up a notch on my R1200GS to provide better shifting for the large boot, but after a day of riding I moved it back to the normal position. The up and down ankle shifting motion loosens up after a while. Standing on the bike I felt planted as the boots gripped the pegs well as I climbed through the dust and bumps on Mount Madonna Road. These Crossfires are going to enjoy the ride to Copper Canyon next year and many more adventures to come.
Retails for $425. Available in black and white, sizes 7-15.
Available online at MotoNation, www.motonation.com or Toll Free (877) 789-4940
Posted by stephen at 4:04 PM | Comments (0)
April 13, 2008
Surf City Tech Day
Slightly groggy from the cognac the night before I woke up this morning and velcroed my boots over the stitches on my shin and gritted my teeth. I mounted the GS and rode through the Santa Cruz mountains over to Darryl Richman's house where he was holding the 8th annual Surf City Tech Day. It was the first hottest day of spring and the sun was shining. As I rode up his steep winding driveway I looked to the right and saw the southern end Monterrey Bay in the distance and on the left a bunch of old guys standing around talking and looking at old motorcycles. Some were even taking them apart and fixing them. I saw some old friends and and I made some new ones and have never seen so many valve adjustments in a row in my life.
Dude, there's an old bike. Dude, it's Darryl's R52!

I walked into the garage and there was Greg Hutchinson rebuilding the front calipers on his GS. Who do these people think they are working on there own bikes? It's crazy! Crazy I tell ya!!

No, this man is not in the middle of a severe hernia. He's syncing the carbs on this Airhead by ear. With his own ears! I'm starting to get frightened. Very frightened.

Inside my head, I asked this man, "Are you doing a valve adjustment all by yourself?" He replied, inside my head, "No, not really there will be a handful of guys that will stand behind me and tell me how to do it correctly and give me secret tips." I hope he just doesn't void his warranty!

And then an odd looking bike showed up with a large tank and a small seat.

There were toaster tanks with no toast in them.

His name is Joachim Groeger. He's 86 years old and still rides. He owns a machine shop in Redwood City and works on vintage BMWs. 'Nuff said.

David Brick smiles as Sophie waits in the background for Greg to show her how to adjust her valves.

MOA Ambassador, Darryl Richman is the Cliff Claven of vintage BMWs and that's a good thing. He is a repository of information regarding the restoration and history of these old machines. The best thing he does with all that information he acquires is that he shares it.

Then I met this guy from France named Jean. He's been hiding out in Napa Valley for ten years making wine at Opus One. At $183 a bottle I'm going to make friends with this guy and see what he brings to the next party I invite him to.

The king of Castle Drive perches on one of his non-porcelain thrones enjoying a day well done. Thank you Darryl.

After a few hours of absorbing the testosterone from the motorcyles and tools in the little paradise above the clouds I invited my two new friends from France to join me in a quest to the Corralitos Market for apple wood smoked honey glazed bacon! Yes, a Bacon Run! En francais, Course de Lard! Could the day end any better?

If you want to see the rest of the photos you will have to click on the link below.
All the photos here.
Posted by stephen at 12:06 AM | Comments (0)
April 11, 2008
Hardware Removed
Hardware Removed
Originally uploaded by Burnszilla.
After laying on the couch for seven days watching movies and Anthony Bourdain reruns I'm experiencing a little bit of cabin fever. Last Thursday, I had the plate and the thirteen screws removed from my left tibia that I fractured spirally last June in an off road motorcycling adventure. The past week is a blur and I don't remember much as I was sedated with the bung you up drug, Vicodin. I can't wait to be regular again. I have line of stitches split in two down my shin and a two-stitcher hole to one side where I presume the doctor went in to remove a screw. Currently I'm only in pain when I stand up for more than five minutes and all the blood rushes down to my leg. My circulation will get better and I have lost most of the feeling on the top of my foot above my big toe, just like the first time they went in and cut up the nerves. It will take about a year to get most of the feeling back. They say 99 percent of broken leg victims with hardware leave the hardware in. The past rainy winter in the Santa Cruz mountains reeked havoc on my hardware just above my ankle. I also figured out that the doctor who installed it used too long of screws and they protruded out the back of the bone and rubbed against the tendons on the inside of my ankle. When I moved my foot up and down and squeezed the skin behind my ankle I could feel a crunchiness. This aggravated my tendons and it felt like I had a permanently sprained ankle. I had a very noticeable limp. After the removal of the plate and screws the crunchiness is gone. From my limited walking around the house this past week I can already feel a huge difference in my leg and there is no more stiffness above my ankle. I'm quite confident that my limp will disappear. In the next seven weeks my bone will grow and refill the holes that the screws were in and my leg will be back to normal. It has been a week since I have ridden my motorcycle and I'm going a little crazy. Perhaps on Saturday I will go on a test ride to see if I'm up for the full commute to work on Monday.
Posted by stephen at 12:54 AM | Comments (0)
March 13, 2008
Santa Cruz to San Luis Obispo Ride
Here's the video for the previous blog post.


Posted by stephen at 7:02 PM | Comments (0)
February 19, 2008
SLO Ride
On Sunday, my friend Peter and I departed Santa Cruz on our way to San Luis Obispo, CA. The plan: ride roads we have not ridden, ride some dirt, eat well and have fun.
Old Hernandez Road off of Hwy 25. The goat path turns to dirt with so rocks the size of your fist scattered in soft dirt.

Riding the San Andreas Fault we take Parkfield Grade into the tiny town of Parkfield.

After a BBQ tri-tip sandwich and ortega burger we took some photos...

It's a great time to ride in California. After the rains the hills turn vibrant green, rather than the yellow straw we see in the summer. I imagine I'm riding in Ireland. Bitterwater Road is quite sweet.

Peter was falling asleep when we were riding on hwy 58 about 22 miles out of SLO. He stopped to rest for a few minutes and I went into town to gas up, get beer and check in to the motel. As I was stuffing my duffel bag with beer, my cell phone rang at the Chevron and Peter was on the stuck side of Hwy 101, 4 miles north, with and empty tank of gas. My MSR fule bottle with a liter of gas came to the rescue. My R1200 made it 220 miles on a tank (fuel spout drilled) and I put in 5.7 gallons of gas there. The 1150's range was a bit shorter.
After we checked in we polished of a 12 pack of Pacifico and walked over to our favorite Italian restaurant, Buono Travola. Carpacchio, penne ariabiata and veal along with two bottles of the Central Coast's finest red wine.

This Sangiovese was so complex I had to think about it.

After dinner we stumbled over to Mother's bar and made some friends..

It was karaoke night and I'm not shy. I convinced our new friend April to join me on stage but she got stage fright and would not sing into the mic.
Sweet Child O' Mine!

The crowd can't contain themselves. It was as if the spirit of Axl Rose had taken over my body. I wish his voice was included.

The best place in the area to have breakfast is in Santa Margarita. No relation to the other Tina's Place in McKittrick, CA.

The central coast of California is the birthplace of tri-tip. That tender triangular tip of the sirloin. It's not just for dinner around here.

Hangover cures: Vitamins, Advil and Grease...

After breakfast we headed over to one of our favorite roads in the area: Hwy 229, Creston Road. I have never taken any photos of this rollercoaster because there's no where to stop and you don't want to stop because it's so fun.
We pop out behind Paso Robles and take Estrella Road for the first time up to San Miguel. A nice find on the GPS...

After gasing up in San Miguel we rode Indian Valley Rd to Peach Tree Road. I think we saw two motorcycles and one car on the entire 38 mile stretch.

From here we flew up the the Airline hwy toward Hollister where we split up to go home.
A great Presidents Day Ride.
Posted by stephen at 9:13 PM | Comments (0)
January 23, 2008
Big Sur Ride and Camp
Sharon and I rode down south of Big Sur to Kirk Creek campground. This was Sharon's first long ride on her Buell Blast. She now wants a bigger bike.

Posted by stephen at 4:34 PM | Comments (0)
December 15, 2007
The Death of a Motorcycle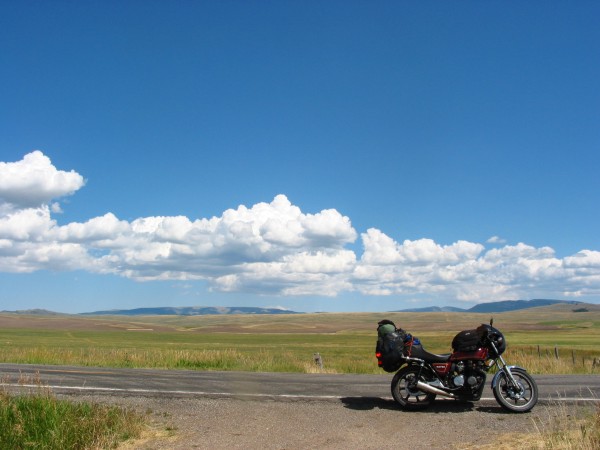 Back in the summer of 2003 Peter, my friend, and I went on a motorcycle journey of a lifetime. At the time, I was riding a 1980 Kawasaki KZ750 with bicycle panniers strapped to the back and Peter was on a 1988 BMW K75S. We rode through the Pacific northwest up to Vancouver Island and across British Columbia to Calgary to visit his brother Dave. We then traveled south through Montana, Yellowstone Park, Wyoming and Idaho. We slept under the stars, ate the finest grease at diners and met interesting people along the way. Even though Peter and I returned home safely, I can't say my KZ750 did.
As we rode westward across Idaho in the darkness, around 10 o'clock, my guardian angel watched overhead. I was in the lead flying down a two lane rural highway at 80 miles per hour as Peter followed. Suddenly, out in front of me jumped a huge elk and a smaller one following. I instantly hit the brakes and most likely hit more rear than front. Miraculously, I missed the elk and kept the bike up. All Peter saw was me, the elk, and a 50 foot patch of rubber on the road. This was our introduction into riding at night so we immediately checked into the next motel down the road. I was new to riding and now I wished I had known better. The leading cause of motorcycle deaths in the US is from collisions with deer.
The next day my engine seized in the desert, twenty-five miles north of Winnemucca, Nevada. About a month before the trip I had installed an Dyna electronic ignition on the bike. The problem was I had melted a wire that ended up grounding out on the frame so the bike kept blowing a fuse and stalling. Stupidly, I ended up bypassing the fuse by wrapping the glass tube fuse with tinfoil. The ignition eventually failed and I was only running on two of the four cylinders by the time we got to the Idaho-Nevada border. Within thirty miles, the engine was spewing oil and smoking. A while later we pulled into a Chevron gas station to assess the situation only to discover the bike was cooked. My second guardian angel came in the form of an ex-convict on parole. He and his crystal methed-out girlfriend gave me and the KZ a ride into Winnemucca in their 1976 Ford F250 as Peter followed. In the cabin of the truck I calculated that I had more teeth than the two of them put together. Good times indeed. I could not have planned the timing of the breakdown any better. We ended up throwing the bikes in a Uhaul cube van and drove home to the Bay Area the next day. A few weeks later I purchased a 1987 BMW K75S with the money from the parted-out KZ750. My addiction to BMWs began.

Posted by stephen at 9:46 AM | Comments (0)
October 23, 2007
Morro Bay, California Ride, Eat & Camp
Posted by stephen at 4:54 PM | Comments (0)
Riding the San Jose Half Marathon
Posted by stephen at 4:47 PM | Comments (0)
February 26, 2007
Sealing the 'stich
Sealing the 'stich
Originally uploaded by Burnszilla.
That infamous photo of me and my wet crotch has brought me some good fortune. I sent the photo to Aerostich and Sherry replied, wondering what happened. I explained to her that I rode in the rain with my Roadcrafter suit and it leaked. She asked for permission to use the photo in their catalog and she sent me a tube of Seam Grip to waterproof the zipper seams on my suit. It took about fifteen minutes to syringe and brush the sealer all over my zippers. I was going to put the suit to the test today in the rain. My wife woke me at 6am and prodded me to car pool with her into the valley. She didn't want me to ride in the rain and she wanted to use my body as a ticket to get her into the fast moving car pool lane. Half asleep, I gave in. Feeling a little bit like Miss Daisy, I relaxed on the passenger side while Sharon drove. My crotch protected from the elements.
Posted by stephen at 11:05 AM | Comments (0)
February 23, 2007
Helping Hurricane Katrina Victims
On my way to work each day I ride up the Old Santa Cruz Highway, now known as Glenwood Drive. For the past two years I've seen this trailer parked on the side of Glenwood Drive. It disappears and reappears every couple of months. It's quite obvious that there is a person collecting relief supplies for Katrina victims In Louisiana and Mississippi. Then they make the 2,245 mile trek to New Orleans to give to the victims and afterwards return. Katrina hit New Orleans August 29, 2005 and most of the country thinks that everything is fine down there now. It looks like they still need help in the New Orleans area. Kudos to my neighbor for helping in his own way.
Posted by stephen at 2:47 PM | Comments (0)
February 20, 2007
A Ride for Basque Food
Sunday morning my friend Darryl and I embarked on a 336 mile journey to eat. When it comes to motorcycle dining, Darryl ranks up there with the best of them. The motto on his coat of arms reads, "Ride to eat and eat to ride." We rode south on highway 1 towards Laureles Grade which threw us over onto Carmel Valley Road. Carmel Valley Road corkscrews southeastward to King City. We crossed highway 101onto Bitterwater Road which connects to highway 25, otherwise known as the Airline Highway. Northward we turned right on Panoche Road and took it past Mercey Hot Springs along Little Panoche Road. We slabbed it on I-5 northwards and exited towards our destination.
Just after two o'clock we arrived at the Wool Growers French Basque Restaurant in Los Banos, California.

Our stomachs were empty since we only had a small breakfast prior to 8 am. Adorned in protective motorcycle gear we walked into the one hundred year old building, past a bar room on the right and into the back dining hall. Two tall attractive brunettes ran the show. Long communal tables ran the length of the room and rancheros were scattered about. We were seated off to the side at our own table. "What would you like? Tri-tip, chicken or lamp chops?"
I wasn't prepared to make such a quick decision. Darryl chose the lamp chops and I followed suit. You must ask yourself: how often do I eat lamb chops and what's the name of the restaurant? When in Basque. Within moments our table started to fill up with food. Food I didn't even know was ordered. A fresh loaf of bread along with single-serving butter squares sandwiched between wax paper. Just like other restaurants the butter was cold and hard. A half liter of table wine appeared. A large serving bowl of vegetable soup and a large side of brown beans showed up.
Darryl mentioned that the last time he was there he had seen regulars put their beans in the soup. We adopted the tradition. A crispy iceberg lettuce salad with a mayonaisse based dressing appeared and then a large plate of rice with pulled chicken a few diced sundried tomatoes. I've never tasted rice this good before. There were really good french fries too, but I resisted, watching my figure. Ya, right! I was starting to worry about how we were to make it back home with a food coma. The our waitress brought us two large lamp chops, each. They were spiced to perfection. I couldn't believe all the food they brought us. Desert was a plastic cup of vanilla ice cream with the peel off paper top. The only thing missing was the disposable flat wooden spoon. Ironically, the ice cream was softer than the butter. I'm not complaining at all here. I love ice cream. The bill showed up and I was even more amazed. Fifteen dollars each, plus tip. That was one of the best meals I've had in a long time. I will be stopping their next time we come back from Yosemite on a weekend.

We hopped on our BMWs and raced the Pacheco Pass home into San Jaun Bautista and on every back road north of Watsonville in the Santa Cruz Mountains. A successful ride and a full stomach make for a great day. Click here to see all the photos.
Posted by stephen at 10:24 PM | Comments (0)
February 17, 2007
Micatech Motorcycle Luggage
This morning I dropped Sharon off at the airport. She's gone to Atlanta for ten days to visit her friends. When the cat's away the mice will play. What's a man to do? Coincidentally my Micatech motorcycle luggage arrived via FedEx at work today. It took about four weeks including shipping time to get them. I believe the demand is increasing for these cases and the company is busy with orders. When I arrived home I eagerly installed the mounting system and cases. You could tell right away that they run a tight ship at Micatech by the way all of the parts inside the two boxes were meticulously packaged, accounted for and fastened down. Taking my time, it took about three hours to get the install done. Every threaded bolt had to have a drop of Loctite Threadlocker Blue on it to ensure that they wouldn't vibrate off.

After spending a few late evenings researching what aftermarket cases to get for the GS, I decided on the Micatechs. The side loading BMW Vario cases are known to fall off the bike while riding on bumpy roads. The Jesse Odyssey bags are top loading and you would have to remove your luggage or roll bag off of the rack to access the contents. Others were known for dragging on the road if you leaned too much in corners. Leaning is fun and scratching up your new luggage would suck. The side loading Micatechs with mounting system that blends in with the style of the GS were the obvious choice. All your stuff is safe as the doors are secured by latch and key. At a capacity of 102 liters total and a weight of less than 15 pounds each, I'll be able to bring the kitchen sink along on trips. These cases will hold about double of what my old K75S Integral cases would. That makes for a happy wife on your two-up ride to Los Angeles for Thanksgiving.

I'm very happy with the cases and I can't wait to get a look at the new topcase Micatech plans to release in the summer. Rumor has it, the owner of the company is here in California on his GS riding treacherous dirt roads, putting his topcase to the test.
Posted by stephen at 12:24 AM | Comments (0)
February 15, 2007
Ride To Work, Inc. Featured Blog
Me & my old K75S
Originally uploaded by Burnszilla.
Last week I submitted my blog to be included in the
RideToWork.org
Commuter Blogs. I received an email today and now I'm listed on their site along with a photo
HERE
. Scroll down a bit. Second from the bottom.
Posted by stephen at 2:43 PM | Comments (0)
February 13, 2007
Dead iPod
Dead iPod
Originally uploaded by Burnszilla.
This morning my iPod died. Such a sad day. It froze last night on a Santana song on the way home in the rain. I put it in the dock to charge it and this morning it was completely dead. No reset and no charging image on the screen. I replaced the battery with a new one I had and that didn't change a thing. I'm going to mail it to iPod Mechanic in Michigan to get a free diagnosis. I purchased this 30 gig iPod Photo in March of 2005 and I've been using it for a minimum of 1 hour per day. I listen to my iPod while commuting into work each day. Longer usage on motorcycle trips. So its
lifespan
was 700 days and I roughly squeezed 700 or more hours out of it. I'm curious to see what the diagnosis will be. Most likely the hard drive failed. If that's the case it will be more cost effective to replace it with a brand new unit rather than fixing it.
Posted by stephen at 1:27 PM | Comments (0)
February 12, 2007
The Ring
In late July of 2000 I bicycled solo over 500 miles around Lake Ontario heading east out of Toronto towards Kingston. I crossed by ferry over Wolfe Island and headed west through New York along the south side of the lake towards Niagara Falls, crossing the border and heading home. My bike was loaded down with a handlebar bag and four panniers probably weighing about 100 pounds total. In hindsight I had over packed for the journey. I was following the Water Front Trust trail which consisted of paved trails, city streets and secondary highways. Secondary roads in Ontario give the cyclist about three inches of pavement to the right of the white line to ride on. Total concentration is essential. On day two before arriving at Brighton for breakfast I survived a near death experience. I was pedaling along a lonely stretch of highway when I steered into the loose gravel to the right of the road. To get back onto the asphalt I over compensated and steered sharply back towards the middle of the road. At the same time a family in a teal Ford Escort station wagon was right behind me. The driver swerved into the left on coming lane to avoid me. All I remember was looking down at the gold ring on my left little finger, hearing tires screech and a flash of teal fly by. Between the car and my left handlebar were about four inches. I regained my heading back to the right side of the road and the Escort driver now in front of me waved out his window to make sure I was okay. I waved back to let them know I was fine. After what had happened set in, I was overwhelmed with emotion and began to cry. I pedaled onwards to Brighton to find a greasy diner to have breakfast.
The ring on my left finger was the my grandmother's gold wedding band that I inherited. I always wore it as a good luck charm and to remember her by. Perhaps that day she was my guardian angel and helped me escape disaster. Today, I still wear that wedding band; it was enlarged to fit my ring finger back in July 2001 when I married Sharon.
Posted by stephen at 3:59 PM | Comments (1)
February 10, 2007
'Stich Crotch
Got Crotch?
Originally uploaded by Burnszilla.
Sharon and I went for a very wet ride today to meet some
ADVrider
friends for lunch at Alice's Restaurant in Woodside. Along the coast there wasn't much rain but we got soaked on the ride back along Skyline. One of the weak points of the
Aerostich Roadcrafter
one piece suit is the zippered crotch. It leaks. It gets cold down there and shrinkage occurs. I should take the time to apply some SeamGrip or bees wax to the the zipper to keep the water out. Then it won't look like I had an accident.
Posted by stephen at 11:47 PM | Comments (1)
February 9, 2007
Great Motorcycle Quotes and Wisdom
Four wheels move the body. Two wheels move the soul.
Most motorcycle problems are caused by the nut that connects the handlebars to the saddle.
Life may begin at 30, but it doesn't get real interesting until about 110 mph!
You start the game of life with a full pot o' luck and an empty pot o' experience... The object is to fill the pot of experience before you empty the pot of luck.
If you wait, all that happens is that you get older.
Midnight bugs taste best.
Saddlebags can never hold everything you want, but they CAN hold everything you need.
Never try to race an old geezer, he may have one more gear than you.
It takes more love to share the saddle than it does to share the bed.
The only good view of a thunderstorm is in your rearview mirror.
Never be afraid to slow down.
Don't ride so late into the night that you sleep through the sunrise.
Sometimes it takes a whole tankful of fuel before you can think straight.
Riding faster than everyone else only guarantees you'll ride alone.
Never hesitate to ride past the last street light at the edge of town.
Never do less than fifty miles before breakfast.
If you don't ride in the rain, you don't ride.
A bike on the road is worth two in the shed.
Respect the person who has seen the dark side of motorcycling and lived.
Young riders pick a destination and go... Old riders pick a direction and go.
A good mechanic will let you watch without charging you for it.
Sometimes the fastest way to get there is to stop for the night.
Always back your bike into the curb, and sit where you can see it.
Work to ride & ride to work.
Whatever it is, it's better in the wind.
Two-lane blacktop isn't a highway - it's an attitude.
When you look down the road, it seems to never end - but you better believe it does.
Winter is Nature's way of telling you to polish. (unless you live in Southern California)
Keep your bike in good repair: Motorcycle boots are NOT comfortable for walking. ( For Harley Riders)
People are like Motorcycles: each is customized a bit differently.
Sometimes, the best communication happens when you're on separate bikes.
Good coffee should be indistinguishable from 50 weight motor oil.
The best alarm clock is sunshine on chrome.
The twisties - not the superslabs -separate the riders from the squids.
When you're riding lead, don't spit.
A friend is someone who'll get out of bed at 2 am to drive his pickup to the middle of nowhere to get you when you're broken down.
Catching a yellow jacket in your shirt at 70 mph can double your vocabulary.
If you want to get somewhere before sundown, you can't stop at every tavern.
There's something ugly about a NEW bike on a trailer. ( Amen)
Don't lead the pack if you don't know where you're going.
Practice wrenching on your own bike.
Everyone crashes. Some get back on. Some don't. Some can't.
Don't argue with an 18-wheeler.
Never be ashamed to unlearn an old habit.
A good long ride can clear your mind, restore your faith, and use up a lot of fuel.
If you can't get it going with bungee cords and electrician's tape, it's serious. ( Mr Bungee lives in Ohio)
If you ride like there's no tomorrow, there won't be.
Bikes parked out front mean good chicken-fried steak inside.
Gray-haired riders don't get that way from pure luck.
There are drunk riders. There are old riders. There are NO old, drunk riders.
Thin leather looks good in the bar, but it won't save your butt from "road rash" if you go down.
The best modifications cannot be seen from the outside.
Always replace the cheapest parts first.
You can forget what you do for a living when your knees are in the breeze.
Patience is the ability to keep your motor idling.
Only a Biker knows why a dog sticks his head out of a car window.
Keep the paint up, and the rubber down!
There are two types of people in this world, people who ride motorcycles and people who wish they could ride motorcycles.
Never ride faster than your guardian angel can fly.
"It is good to have an end to journey towards; but it is the journey that matters in the end."
Ride as if your life depended on it !!
Posted by stephen at 1:42 PM | Comments (0)
February 8, 2007
Riding in the Rain
Three years ago when I walked into the office with my wet gear on co-workers would say, "Did you ride in today?"
"No, I walked here in my motorcycle gear." Now they don't say anything. They just think I'm crazy. Riding in the rain is not crazy if done correctly. Actually I find it quite relaxing, because you have to ride as smooth as possible.

I learned the hard way a few years ago as I approached a down hill traffic light in Seattle in the rain with a fully loaded K75S. I forgot to stay out of the center of the lane where an oil patch accumulates from cars leaking. I slid down the hill and used all of my skill to try and keep the bike up, but gravity won. At a low speed I dropped the bike on the right side. Two guys on the corner came over to help me lift it back up. The fairing and signal light were smashed. The most painful part of that trip was riding home and looking down at my damaged bike. I now stay in the right or left tire tracks part of the lane and watch out for slicker than snot oil patches, road paint and manhole covers.

I believe that all motorcyclists should ride in the rain to practice the skill and become confident at it. If you are on a long motorcycle trip, you have no control over the weather. Are you going to stay in your motel in Willits for the rest of the vacation and wait for the rain to pass? I sure wouldn't. Some people don't want to ride in the rain because it dirties the bike. On the other hand, I think it's a great way to wash your bike.
Get out there, ride in the rain.

When you're driving in your car or truck, you're protected from the rain. When you're riding a motorcycle, you're exposed to the elements. However, motorcycles do offer some advantages in wet weather. They provide a superior view of the road, easy maneuverability, and more escape routes from any potentially dangerous situations.

If you're riding in the rain, remember the following tips from the Motorcycle Safety Foundation:

* Aim for smooth control. Be gentle with your brakes and throttle, but balance your grip. When you're riding in the rain, aim to complete your turns before you accelerate.

* Avoid last-minute reactions whenever possible. In wet weather, you must plan ahead to determine when you will need to accelerate or brake. Using engine braking for corners and junctions will reduce the risk of skidding.

Avoiding hazards is extremely important in the rain. Watch out for the following obstacles when you're riding your motorcycle in wet weather:

* Slick concrete surfaces
* Manhole covers
* Railroad tracks
* Puddles
* Potholes
* Oil spills

When you're purchasing tires for your motorcycle, avoid tires that are labeled as "long-lasting" if you plan to do a lot of riding in wet weather. Many motorcycle owners think this purchase is a good way to save money. However, these tires are typically less tacky and can't provide enough traction to keep you safe in wet weather.
Posted by stephen at 4:01 PM | Comments (1)
February 7, 2007
Bring My Wallet
There is an old saying that BMW stands for 'Bring My Wallet' and I experienced it in a different way. The electronic gas gauge on the new BMW R1200GS is know to be a little be wacky to say the least. I had my original gas sensor strip replaced under warranty a few weeks ago. I have not fully tested out the full range of the bike by riding until I run out of gas. On my way home after work, at the 50 miles until empty mark the orange warning triangle lit up and the the word FUEL! flashed on the screen. My range was decreasing quickly and I decided to pull into the Chevron in Los Gatos to fill up. As I pulled into the gas station my range was six miles and I had forgotten my wallet on my desk at work. I called Sharon to see if she could drop by the gas station on her way home and buy me some gas. She was twenty minutes away and I couldn't wait that long because there was a Big Redwood Park board meeting I had to attend. I asked a couple walking their dog if I could borrow five bucks and I would return it to them later, but they had no cash on them. I looked in the pockets of my Aerostich suit and found $1.52 in coins allowing me to buy .53 gallons of 89 octane. I get about 40 miles per gallon so that should get me home which is twelve miles. I turned the key and my range jumped up to 38 miles. I made it home safely.

In the morning Sharon left me her credit card so I could fill up on the way to work. I rode twelve miles back to the same gas station and filled up the tank to the brim with 4.3 gallons. The tank holds 5.3 gallons total. So, I figured that the range actually counts down to the one gallon reserve level. When it hits zero I have one gallon of gas and about 40 miles to find some more. Most GS riders ignore the gas gauge and use the old school method, using the tripmeter to count the miles they have gone. You would think on a bike this expensive that BMW would have tested the gas gauge before slapping it on the GS and putting it out to market. It has been said before that BMW lets their customers test their bikes for them. I'll continue to test out the GS for them but meanwhile, I've decided to store an emergency ten dollar bill under the seat for gas when I forget my wallet.
Posted by stephen at 1:05 PM | Comments (0)
February 6, 2007
BMW R1200GS
About a month ago I purchased a new 2007 BMW R1200GS. I've been drooling over this bike since it came out in 2004. I would dream at night of riding this machine on log adventures. It's amazing how much motorcycle technology has advanced in 20 years. My trusty 1987 K75S took me many places since 2003 and I managed to travel 58,000 miles on it. Selling it was like giving a dog that you owned for four years away. The new dog has made me forget the old dog quickly: the suspension is superior, the boxer engine has a few more horses in it and it's a dual-sport. The list of improvements over my old bike go on. Instantly the GS offers the opportunity to wander onto a road you've never been without worrying about it turning to gravel. It has put a huge grin on my face during my daily commute to work. More adventure stories are sure to follow.

BMW marketing jargon...

Where you're going, there are no zip codes.
The R 1200 GS answers the call of the wild with a 100 blazing horses. The Boxer engine also produces 85 lb/ft of torque, giving it serious grunt as well. The Telelever front suspension keeps road rides smooth and a reliable shaft drive means your odometer will spin around like a slot machine. Whether it's bombing down fire roads or ripping around the twisties and snacking on unsuspecting sport bikes, one thing's for sure: the R 1200 GS devours any road you throw at it.
Posted by stephen at 12:35 PM | Comments (0)
February 15, 2006
<> Motorcycles OK
I commute to work five days a week, 30 miles each way on my motorcycle. Today on highway 85 south, heading home I roughly counted all of the slow moving cars I passed while I was in the commuter lane. I figured I passed about 3000 cars just on the 12 miles of highway 85. As I wizzed by all those practically parked cars I wondered if any light bulbs had gone off in their heads. "Hey, If I commuted on a motorcycle I wouldn't be stuck in this traffic!"
I find it funny that people will go out of their way to learn how to scuba dive, and then only take part in that sport maybe twice a year if they are lucky. In about the same time it takes to get SCUBA certified, one can take a MSF course instead and partake in motorcycling almost every day.
I'm becoming an advocate of riding to work. I just love the www.ridetowork.org propaganda cards you can download and print.
Ride to Work - Transportation Facts
Posted by stephen at 7:14 PM | Comments (1)
January 23, 2006
Rick Mayer Cycle - New Saddle
Saturday morning Sharon and I got up at 5:30am and we were on the BMW K75s at 6:50am to head north 263 miles to Anderson, CA to get a new seat made. Just north of the 505 and 5 junction we stopped at The Oasis for a greasy breakfast. We arrived just after noon and Rick welcomed us into his home to relax with a cup of green tea. He took photos of Sharon and I sitting on the bike and then he printed them and started to make the saddle which took over two hours because we were swapping stories. We were the last drop-in customers to have their seat made in the old garage. Rick has a brand new big garage that will be finished next week. Rick is a master on the sewing machine. His father gave this machine to him. It's a model from 1966. He uses dacron to sew the double stitch seams. Meanwhile, Sharon is asleep in the lazy-boy beside the fireplace in the living room.

The ride home was much more comfortable than on the way there. My butt doesn't slide all over the place anymore. I feel planted on the bike. It's a warm fuzzy feeling.We stopped at Louis Cairo's in Williams for some 'Louis Bread' (1/4 inch of garlic on bread) and steaks.
We arrived home at 9pm exhausted. We had a hot tub and went to bed.
Posted by stephen at 4:18 PM | Comments (0)
January 20, 2006
BMW Euro-switch Upgrade
I thought I would share this with my fellow K-bikers. I guess some older R bikes can do this too. If you are looking for a stock switch for extra lights or accessories on your bike, this is the way to go.
Last week the little green vinyl starter switch on my 87 K75s wore out, fell off and its spring popped out. The bike still started with the little piece left. You can't just replace the starter switch alone, a whole new right side switch assembly has to be ordered.
I thought this would be a great time to get the European right side switch that has the driving lights and headlight yellow switch on it. It can be ordered thru any dealer in the US and the part number is: 61 31 1 459 462. You'll notice on the US model there is a black filler piece where this swich goes. It also looks like they changed the green starter button to a harder type of plastic.
I removed the tank and took out the old switch and harness. The American switch has three prongs in the connector that are all connected together with a gray wire that hardwires the headlights to ON all the time. I carefully pried out the three prongs in both units and moved the bypass wires to the new Euro switch connector. That freed up the 3 wires that were controled by the two headlight switch positions. One wire (blue & gray) is shared by both switch positions. I soldered on some wire to the 3 wires and ran it to the electrics box and used the first position (driving lights) on the switch to turn my Autocom on and off. The second position will be used for something in the future.
Posted by stephen at 3:07 PM | Comments (0)
January 19, 2006
TiVo Motorcycles

Last night I looked on my TiVo for some new shows to watch.
I looked under: 'Interests'-->'Motorcycles'.
The Results:
American Chopper, V-Twin Motorcycle TV, American Thunder, Steel Dreams, The Great American Motorcycle, Biker Build-Off, 2 Wheel Tuesday, The Motocross Files.
You will get almost the same results if you search under: 'Interests'-->'Posing'.
I am sick of all these 'roid raged chopper shows. They need to come up with some new motorcyclist-sport-touring-rally type show that does a ride report, a gear report and some maintenance tips. Is there a market for this type of audience??
"Life in the Fast Lane with Steve Natt" on the Fine Living channel covers a little bit of BMW motorcycling but I need more than a 10 minute segment every other show.
Find me the money and a producer and I'll make you a great motorcycling show!
Posted by stephen at 3:20 PM | Comments (0)
January 13, 2006
Growing a Beard
I've been having trouble with in-grown whiskers after shaving my face for a while so I went to see a dermatologist. I was diagnosed with folliculitis. I have about 40 years to live. It is inflamation of the hair folicules on my face. She gave me some antibiotic cream and told me not to shave with a razor with more than one blade. The Gillette Mach III I've been using for my head and face have three blades. Good luck looking for a half decent single bladed razor at Walgreen's that won't mutilate your face.
The doctor gave me two options. First, I could use a razor called the Bump Fighter, that is popular with African-American men with curly in-grown hair problems. Secondly, I could grow a beard. Letting all the hair on your face grow out solves the in-grown hair problem. It will also give your skin time to heal from the folliculitis. I read on the web that it takes about six weeks to grow a beard. After two weeks I realized I did not inherit any beard-growing genes like the ones Grizzly Adams did. I think I'm closer to a Gil Grissom.

My wife doesn't mind the beard and she thinks I look fine. I never intended to grow a beard for fashion sake or to look cool. I did it to heal my skin. It's also kind of odd to have a shaved head and a beard. If Shel Silverstein could pull it off then so can I.
The funniest part of growing a beard is the reaction I get from co-workers and friends. I never thought I could offend someone by growing it. One guy at work who wears purple shirts with cowboy boots and doesn't own a horse, keeps telling me I look terrible. I guess he yearns for clean shaven Stephen! Others just look at me funny but are too kind to say the truth. I know exactly what they are thinking. Others say, "You're growing a beard, cool!"
The itching has subsided and I'm going to grow it right out until mid February. And when my skin heals up, I'll start shaving again, probably with the Bump Fighter blades.
Posted by stephen at 11:18 PM | Comments (0)
December 2, 2005
Thanksgiving Roadtrip to Los Angeles
Sharon and I left Wednesday morning for Santa Barbara on the motorcycle. Our goal was to take California roads that we've never been on before. Sharon was sporting her new First Gear Kilimanjaro riding outfit. This was our first trip using the Autocom communication system I installed under the seat and in our helmets. It's a voice activated radio with inputs for the iPod, cell phone, FRS radio, or radar detector. It worked great as we rode we talked about things and I even gave motorcycle lessons by explaining everything I was doing with the bike. On the way back we used the FRS radio to talk to Murray on the way home. Peter has the same unit too, but he of course forgot to buy the Motorola FRS radio adapter. We took all the back roads that run along the sides of the 101 south. We saw a rode on the map that cut across to Morro Bay so we took it. Santa Rita Road turned out to be a dirt road for 15 miles. We took our time and popped out in Morro Bay and then made our way to the Far Western Tavern in Guadalupe. A friend of mine recommended it. When we arrived just before 3pm the waiter said if you just wait fifteen more minutes you can have your steak cooked on the barbeque rather than the grill. We waited and were rewarded with the best steak of my life. This area in California is notorious for its traditional barbeque using red oak flames. Unbelieveable taste! We jumped back on the bike and headed down Foxen Valley Road to the San Marcos Pass which shot us right into Santa Barbara where we stayed for the night. This was our first time spending time downtown Santa Barbara. It was like downtown Palo Alto on steriods. Store, restaurant, store, restaurant. We had a few margaritas and hit the hay at 11pm.

In the morning we rode out towards Ojai passing Lake Casitas and then taking highway 23 into Los Angeles. We rode the traffic-jammed 405 to Redondo Beach where we had Thanksgiving dinner at my cousin's home. After dinner at 9pm we rode to the mountain tops of Malibu to stay at our friends' Christina and Dean.

In the morning Christina took us shopping and to lunch at Tony Taverna's in Malibu. Friday evening we hooked up with Davidson, Drew, Jackie, Robert, Suzanne and our friends from the Bay Area who rode down the day after us, Peter, Anne and Murray. A light dinner at Urth Cafe and drinks afterwards at the popular Modrian Hotel's Skybar. Beds were scattered around the outdoor pool area as we lounged talking to cute strangers.

Saturday morning Sharon and I took Mulholland Drive to the famous Rock Store motorcycle restaurant/pitstop. Jay Leno and Arnold supposedly drop by all the time with their toys. Peter, Anne and Murray showed up later. They were late because they where helping a woman Hardley-Ableson rider pick up her bike after she layed it down. We had lunch and headed to San Luis Obispo. We travelled along highway 23 again, then up the 33 to the 166. We stopped prior to the 5100 foot summit to put on another layer of clothing as the temperature had dropped to about 40 degrees. In cold weather Sharon and I always wear electrically heated clothing to keep us warm. With electrics you only have to wear one or two layers underneath it to keep warm. This way you don't look like the Michelin man. I have a Gerbing's jacket that plugs into a power socket that has a temperature controller that is permanently mounted in the faring of my K75S. Sharon's Widder vest plugs into another power socket that is always on. She has and on/off switch on the power cable that she can control as we ride. It was windy and there was a tree down on the road. We arrived in SLO at 6pm and checked into our motel. Showered up, we downed two bottle of wine in the hotel room and walked a few blocks downtown for dinner. We had a spectacular Italian dinner in the back courtyard of this restaurant that I can't remember the name of. Afterwards we attended the local pub for drinks. I had bourbon and made quick friends with the solo musician, Louie Ortega, playing that evening.

In the morning we got a slow start, had breakfast and ended up at Justin Vineyards in the Edna Valley just east of Paso Robles. We also stopped for an olive oil tasting too. The olive oil you buy at the grocery store does not compare to the flavorful stuff that this place made. After moaping around Justin for a while we got back on the bikes and heading up the G14 to G17 on the west side of the 101 and headed home. We got home around 7pm. All in all it was a great, safe and successful ride.

Trip photos here.
Posted by stephen at 6:27 PM | Comments (0)
November 11, 2005
People Who Don't Signal are Idiots
This morning on the ride to work up the 85 a blue Ford Explorer cut me off as he merged into the left lane. He didn't signal and obviously he didn't even look. I had to slam on my brakes and move to the left to avoid him hitting me while moving 70 miles per hour. I was really pissed off so I decided to follow him to his workplace and give him a piece of my mind. He pulled off to go into Mountian View and I followed him closely. I wanted to make him nervous. At the first stoplight we came to I was on his right and I honked to get his attention. He looked like a dot com sales guy or project manager. He rolled down the passenger window, fully aware of what I was honking about. I yelled at him, "You almost killed me back there! Don't you look before you change lanes?" He said he saw me but I was going fast. Although in the middle of forcing me off of the road he didn't even correct himself and move out of the way. He kept on coming at me. Luckily, I drive with the "They're out to getcha" mentality. I would have enjoyed punching the guy in the face or kicking the side of his door in, but I can't do stuff like that because my new license plate is not as inconspicuious as it used to be.

Many drivers don't know what that long piece of plastic is sticking out of the steering column on the left. It's a signal light! Learn how to use it! Also, look before you change lanes; including your blind spots.
Posted by stephen at 5:01 PM | Comments (0)
November 10, 2005
Justice the Dalmatian
A lot of people ask me, "How's Justice doing?" Well, she's twelve and a half years old now. She barks at any noise that happens in the house; even at me coming down the stairs. So we bought an anti-barking collar that shocks her when she barks. Now she just growls. She pisses her bed and shits on the floor once in a while. Somedays she is senile. This morning she was acting all weird. She came upstairs, which she rarely does and stared out the window in the front door. I put her outside and she just stood in the driveway in one spot staring. It was a little cold outside and usually she likes to come back inside to the warmth, but I had to coax her to come back inside. Sometimes late at night she comes upstairs too. She looks frightened. She takes Glucosamine and Chondroitin Sulfate, Nzymes and a multi-vitamin daily. I think I'm going to start giving her Gingko Biloba to help with her dementia. Justice enjoys sleeping by the fire of the wood burning stove as she twitches and growls in her sleep. She's chasing rabbits in her dreams or maybe squirrels. She's a good dog.
Posted by stephen at 11:35 AM | Comments (0)
November 9, 2005
Santa Cruz Surfer
Sunday we took Justice for a walk along the ocean near the Lighthouse. I took a few photos. I'm going to start mixing up my long commentaries with simple photo entries too. Just to keep it fresh.
Posted by stephen at 4:03 PM | Comments (0)
November 2, 2005
It's Hot in the Hot Tub!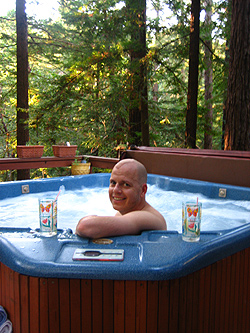 A few months ago we went shopping for a hot tub but soon realized that they're an expensive item to purchase. So, I set up an RSS feed on Thunderbird to show me all the hot tubs for sale on craigslist.org. I came across one tub that was at the side of a five million dollar home off of University Avenue in Palo Alto. It looked okay to me and I offered the guy $100 for it. I called a Spa Mover who I also found on craigslist to go and pick it up for $250. He went to the house but was not able to move the hot tub because the house was undergoing a renovation and there was a three foot deep trench travellling around the house and the tub. Mike the spa mover said it wasn't that great of a tub anyways. So, I told him I was looking for a used tub in good shape. He just so happened to have a Jacuzzi brand tub in his warehouse that someone was storing but did not pay the rent for storage. The person was unable to be contacted so he said I could buy the tub for $1000, pay for the storage fees outstanding of $250 and a delivery fee of $250. New about four years ago the tub was valued at about $8000. So, I went to the warehouse, checked out the tub and closed the deal. Mike delivered the hot tub a few days later and slid it down two by fours onto our back deck. Prepared as I usually am, I reinforced the deck over the summer with three more posts and beams; overkill for the weight of a hot tub. We purchased sixty feet of six guage wire, a fifty amp single pole breaker switch for the panel and a GFCI cutoff switch box to place five feet from the tub. So, Saturday morning I crawled under the house and ran the wire from the tub to the breaker panel. While in the crawl space after drilling holes to pass the wire through, I turned around on my belly and wacked my bald head on the corner of the galvanized cold air return duct. Ouch. I crawled out the darkness like a Marine at boot camp with rounds firing overhead. Blood was dripping down for forehead and I ran up to the washroom and yelled, "Need first aid!" to Sharon. After bandaging up my two one and a half inch gouges I went back to work and wired the tub up. I saved the breaker panel for last because it just made sense. In the past I've always been afraid of the panel, but on Saturday it all changed. Don't fear the panel. I shut off the big main breaker and all the power went off in the house. I shifted all the Zinsco breaker switches up and the 50 amp switch for the tub fit in the very last slot. I also replaced the only single 15 amp breaker with a new double one so if I have future electrical additions, I now have a free switch for it. I got it all wired up in about twenty minutes, turned on the main power and nothing exploded. This was good. We filled the tub and flicked on the cutoff switch and she started right up. Half of the jets were working so I went on SpaForums.com and found out that sometimes air builds up in the pump and you have to bleed it out. I undid the skirt and bled the pump and the jets started working. Sweet. We followed the spa start up directions, added the bromine chemicals and started up the spa. I'm learning all about pH, alkalinity and calcium hardness. Our quality of life has increased at least ten fold. It feels like we are on vacation as the tub sits under a redwood grove. Perhaps the novelty will wear off in a couple of months, but for now we're having a lot of fun.
Posted by stephen at 8:21 PM | Comments (0)
October 13, 2005
Papa
On Thursday my Grandfather passed away.
BELL, Gene - Peacefully at the General Hospital
with his family by his side on Thursday, October
6, 2005 at the age of 81. Husband of Bernadette
Bell. Stepfather of Robert Martin (Nancy) and
Susan O'Leary. Proud Papa of Rob, Ted and Wesley
Martin, Erin, Andrew, Mark and Sean O'Leary. Also
step-father of Gary Burns (Leigh Campbell) and
Ronald Burns (Judy) and their children, Brian and
Stephen Burns and J.D. Burns. Special friend of
Anne and Cliff Sanderson. Brother-in-law of Del
Belanger, Robert Bouillion (Cecile) and Theresa
Eaton. Uncle of many nieces and nephews. Friends
may call at the Arthur Funeral Home & Cremation
Centre on Sunday, October 9, 2005 from 12:00 noon
until time of funeral service in the chapel at
2:00 p.m. Rev. Bruce McLeish officiating. Memorial
contributions to the Group Health Centre Trust
Fund would be appreciated by the family.
www.arthurfuneralhome.com
At the going down of the sun
And in the morning,
We will remember them.
Members of the Royal Canadian Legion are requested
to assemble at the Arthur Funeral Home & Cremation
Centre on Sunday, October 9, 2005 at 2:00 p.m. for
a service for the late Eugene Bell.
I was one of three who gave a eulogy at the funeral service. Below is my speech...
Papa, not Grandpa. Papa. I believed we called him that because my father called his Italian grandfather Papa also. It has some Hemingway-eskness to it now as I look back. Technically speaking Gene Bell was a stepfather and a step-grandfather, but he preferred not to use the "step" prefix. Some of the bonds he created with his children and grand children are much thicker than blood.
Papa was good at many things.
He was a master distiller. Ruby cabernet, dandelion wine and chokecherry wine come to mind. One day my brother called me. He was all excited that he obtained a coveted bottle of the chokecherry wine. I recall seeing these old bottles of Seagram's 7 in the rafters of his workshop in the basement, filled with a dark red liquid. Usually the cap was almost hermetically sealed with the finest masking tape that was stained from the wine oozing out the cap. That evening Brian opened the bottle of wine and drank it. He did not awake until 5pm the next day.
Papa was an outdoorsman. He loved to go hunting. He enjoyed fishing whether it was by boat or by snowmobile on ice.
Papa was a great gift giver. Gifts from Papa and Bernie at Christmas were the best. I never once received a pair of socks or a sweater. All the gifts were battery operated and had motors like remote control fire trucks and motorcycles. After a few months my curiosity got the better of me and I ended up dismantling all the toys to see what was in them and how they worked. This did not go unnoticed and the following year, at the age of 10, I received a real set of Canadian Tire screwdrivers and pliers.
Papa was best at telling stories. He wasn't much of a listener, but he sure could tell you some pretty cool stories. Now that I think of it some of Papa's stories parallel some of Papa Hemingway's fables. I remember an ice fishing story about catching the dreadful ling fish in Northern Ontario. However, I will not miss the story of Ronnie wanting to smoke a cigarette at the house. I've heard it too many times. I've heard many stories about his troubles with his Mazda van and the customer service he received. Poor Bernie must have heard them a hundred times.
When I was in my twenties I started taking interest in World War 2 history. I would visit Papa and we would sit at the kitchen table and sip ruby cabernet and I asked him to tell me about the war. His stories were fascinating and vivid. They were much more interesting and detailed than the war documentaries on the History channel. He once explained how after they took Normandy, his group was humping it up the roads along the coast heading north. French women stood along the rural roads with glasses of milk for the invading troops. Their sergeant yelled, "Do not drink the milk, it could be poisoned," since these women were previously acquainted with the German soldiers who occupied the area. One of his buddies immediately snatched a glass of milk and quaffed it down and yelled, "The milk is okay Sarge!" I also got out of him many other battle stories and the one of how he got the bullet wound on his brow. I'm sure many of you have already heard it.
In 1999 while bike riding along the shore of Lake Ontario in Toronto my friend and I stumbled upon the Legion Branch 344, home of the Queen's Own Rifles. The Regiment Papa belonged to. We couldn't resist, and within moments we were sitting in the Legion at the bar, drinking draft beer and talking to veterans.

A few months later, on the evening of my initiation at that branch of the Royal Canadian Legion, Papa and Bernie were in the area visiting their children Susan and Bob. So, Papa met me at my place in downtown Toronto, and we went for dinner at an Italian restaurant. He was wearing his Queen's Own Rifles jacket and his 50th Anniversary D-Day cap. Afterwards, we headed down to the Legion where he ever so proudly, sponsored my membership and paid for the first year. He said, "I'm only paying for one year, you'll have to pay the dues for rest of them." I am still a member today.
On the way back home in the car, I regretfully mentioned to him that my brother and I, knew the whereabouts of our biological grandfather in Niagara Falls. We were thinking of going there to meet him. Papa piped up loudly, "Now why in the hell would go and do that! I'm your Grandfather! I'm your Grandfather!"

He was right.
Papa will be greatly missed by all of his grandchildren.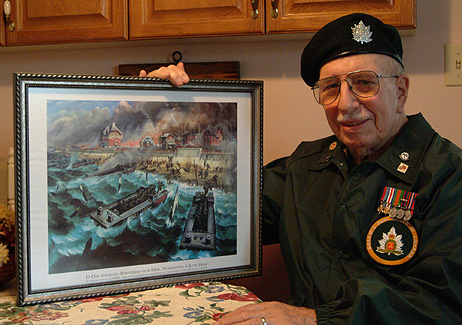 Posted by stephen at 7:43 AM | Comments (0)
October 1, 2005
The High Cost of Underwear
I'm back.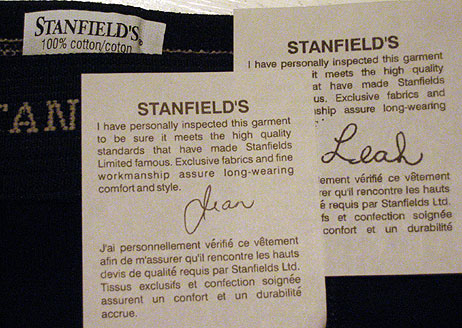 I guess it's a good time to replace your underwear when you can see daylight through the crotch. I'm 35 and my mother still purchases my underwear for me. Oh, don't laugh at me. I can't get this underwear without the help of my mother. I like to keep at least 12 pairs of boxer-briefs in the top drawer of my dresser. That's enough to get me to get to the furthest possile laundry day during earthquakes or black-outs. Plus, the more you have, the less they get worn, so you can get more miles out of them. My current outgoing set of Stanfield's are on their sixth year. They are the only underwear I will wear, besides my sporty fave, the Ex Officio which I will talk about some other time. Meanwhile, the Stanfield's are 100% cotton and are tight enough to hold the boys in place. It's all about support. Over the years the fabric will relax and lose its tenacity. I bought my first pair of Stanfield's at Chalkies clothing on Spadina Avenue in Toronto. Annually in the fall, a group of fraternity brothers would visit the winter clothing store mecca. Since I have moved to the states I have not been able to find a boxer-brief that had good, thick, high quality, cotton, ones that wouldn't be see-through in a couple of washes or was a 50/50 blend. I looked online too and went to the Stanfield's website and phoned them at their offices in Truro, Nova Scotia. But I couldn't find any stores online that would ship to the United States. My mother was planning a visit so I placed an order with her to purchase seven pairs of medium Stanfield's from Sears in Sault Ste. Marie. Priced at $14 CDN each the bill can add up quickly when you purchase multiple pairs, but look how long they last. I got 6 years out of them for $12 back in the day, so that's $2 per year divided by all those days equals 0.00547945205 canuck cents a day for your scivvies. Not too schabby. As I was unpacking the undearwear from the bags that they came in, an "Inspected by" tags fell out from behind the shorts, officially signed my Jean and Leah. It appears Jean was working the black underwear assembly line and Leah was working the gray gitch that glorious day in Truro. It must have been cold out. I unpacked all the gotchies and put them in the washer machine on warm with a little soap. I hate wearing brand new clothes with that brand new sheen on them. A good wash and dry, especially with cotton with puff and soften the fabric up nicely.
I also highly recommend that you do not purchase white underwear. First of all you will never be accused of wearing tighty-whities, when you are wearing nothing but solid gray or black. Whites show the stains to predominantly. Remember that time when you where getting naked just before having sex with your lover. You threw your underwear nonchalantly onto the floor and they fell onto the carpet with the interior crotch exposed for your naked lover who sitting naked on top of the bed to see. I'm not saying this ever happend to me but I'm sure that your undearwear with a bigger skidmark than a five car pile up ruined the mood. Whites are for those who shave their ass and use wet baby wipes to clean up their bottoms after bowel movements. Anyways you get my point.
Black and gray underwear also helps you differentiate the new and used underwear on a trip. I think I'm going to use the Sharpie laundry marker this time and number them.
I wanted to make sure that the ladies who inspected my underwear were aware of my undying gratitute to there service in the undergarment industry, so I sent them a thank-you email to: inquiries@stanfields.com.

Subject: Thanks to Leah & Jean
I just wanted to thank Leah and Jean for inspecting my Stanfield's boxer-briefs. Please let them know that the fine work that they do is appreciated.
Regards,
Stephen Burns
A fine Canadian in Los Gatos, California

If you would like to get your hands on a pair of new Stanfield's from Canada, contact my mother.
Posted by stephen at 3:28 PM | Comments (0)
July 13, 2005
MotoGP at Laguna Seca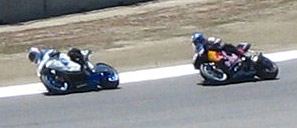 On Sunday, Sharon and I rode down to Salinas to see the MotoGP race at Laguna Seca. Paul at California BMW gave me a free ticket worth $75 to the race. We bought a second ticket off of a scalper for $50 on the side of the road entering the raceway. The traffic was backed up for about 5 miles with cars. We followed the hundreds of other motorcyclists on the right side of the road and sometimes passed over the double line too. Until, Sherrifs starting pulling bikes over. I got yelled at by one to stay on the right side of the line. Perhaps I looked respectable on my BMW with the wife on the back. We parked the bike and put my Aerostich into one of the side cases and my riding boots into the other. We locked Sharon's jacket to the bike with a cable. Slipped on my flip flops and we walked down to the track. Along the sides of the road hundreds of motorcycles were parked. Most of them were of the sport variety. When we got in I asked a guy where they were taking tickets and he said way back at the entrance. I said nobody was asking for tickets. We concluded that the traffic was so backed up that they just let everyone in to speed things up. We walked around and visited some vendors and then sat down on a hill overlooking turn four, right after the Andretti hairpin turn. The race was 32 laps and it only took about 45 minutes to complete. The American in the pole position, Nicky Hayden of the Honda Repsol team won with Scott Edwards taking second and the world champion Valentino Rossi taking third. These riders average about 1 minute 24 seconds to do one lap. I remember two years ago when I attended the California Superbike School at Laguna and it took me about 3 minutes to do a lap on my K75S. I've got some practising to do.
Full Photo Album here.
Posted by stephen at 12:05 PM | Comments (0)
July 5, 2005
Patriotism out of Fashion?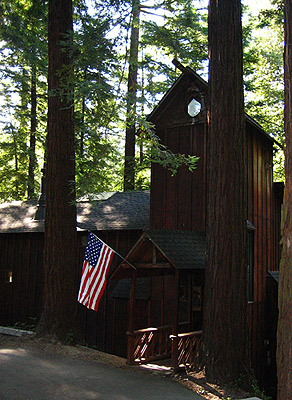 In honor of Independence Day this year I decided to hang the American flag I had bought for Sharon for our second wedding anniversary. Second anniversary is cotton. On July 3rd, I took the extension handle off of the deck scrubber and zip tied the flag to it and hung it from the front porch. It looked beautiful. The colors on this cotton flag are really bright not like those cheap polyester ones. We both stood in the driveway and an odd feeling overcame us. Two Canadians hanging an American flag on their house. It just felt weird. That evening we went to a movie with our neighbors and afterwards met up with friends of theirs at a bar in Santa Cruz. I recanted my flag hoisting story to them and their friend jokingly asked, "Are you a Republican? Because only Republicans hang flags on their houses." It appears that Republicans are considered to be more patriotic than Democrats here in the U.S. I don't think I'm a Republican. In late September 2001 I've never seen so many American flags flying from every mountable object in my life. I just hung the flag because it was the 4th of July and it's what you should do. When in Rome. I also thought it would bring us some Green Card karma. That evening after we got home, I went online and purchased a Canadian flag for next year's Canada Day on July 1st. Next year I'll hang both flags from the house.
Posted by stephen at 11:31 AM | Comments (0)
June 22, 2005
Esalen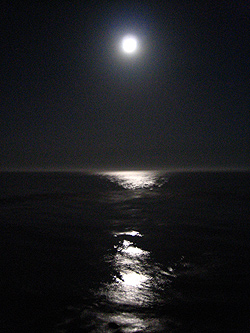 Last Thursday I called the Esalen Institute to book a late night hot bath atop the cliffs overlooking the Pacific Ocean in Big Sur. Sharon's friend, Joanne was visiting from Toronto and we've been meaning to go there for a long time. I also booked us a room at the Fernwood Resort, twenty-five minutes north of Esalen on highway 1. The girls drove down to Big Sur in the afternoon on Monday and I rode down on my motorcycle after work. It's about a 125 mile drive from Palo Alto. In Seaside, just north of Monterey, I pulled off of the highway into the parking lot of an Econo Lodge to put on a sweater under my riding suit as it was getting cold along the coast. As I was getting ready to leave I noticed that when I squeeze my clutch that my kickstand did not retract automatically as it was supposed to. So, I pumped the clutch three times and the cable snapped. Profanity ensued. On long trips I usually carry a spare clutch cable. I could visualize the cable back home, sitting inside the side pocket of my BMW travel bag. At the same time Suzanne called because she was feeding and walking the dog. I asked her to look for my BMW bag and she found it and the clutch cable inside. She kindly offered to deliver the cable to me, 50 miles away in Seaside where I was stranded. What a great neighbor and friend! The taco stand across the street filled me up with chicken quesadillas as I waited for Suzanne. She arrived at 8pm with the cable and I installed it in about 15 minutes. I've heard that some BMWers pre-install spare throttle and clutch cables along side the existing ones so that when they break you just have to attach the ends to the components and you're done. Mental note: order spare throttle and choke cables tomorrow. I slipped Suzanne some money for gas and I was on my way south to Big Sur. The sky was bright orange-red along Pacific's horizon as I had just missed the sun going down. At the motel the girls and I played a game of Crazy Eights and then slept from 10pm till 12am. We then drove down the highway to Esalen and arrived at 12:45am. At 1:00am we walked down the steep entrance road in the dark with other late night bathers and arrived at the kiosk where we signed in. Cost was $20 per person for 2 hours. We walked over to the poured concrete bath house which was pretty new as the old one fell into the ocean after the big earthquake.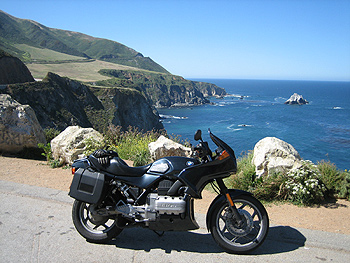 The change room and showers were co-ed and the theme was clothing optional. The lighting was subtle and relaxing. We acquired our own square tub that could hold about 8 people. The spring water had a slight sulfur smell and it was heated by elements in a retainer basin just behind the tubs. You just had to pull a plug to let more hot water in. It was a beautiful moonlit night and the view was spectacular. The sound of the ocean lapping up on the rocks as the oil like water reflected the moonlight. Massage table were scattered throughout the room and Sharon and I took advantage of them and gave each other massages. At 2:30am we headed back to the motel as we were all tired. I was looking forward to the morning commute to work up Highway 1 along the coast.
Posted by stephen at 9:49 AM | Comments (0)
May 27, 2005
Back in the Saddle Again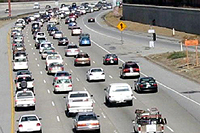 As you may recall from my long motorcycle trip last month I was blowing headlight bulbs every week. When I changed the bulb in Burney, CA on my way back home I broke the clip that holds the bulb in the housing. To fix the clip I had to purchase the entire headlight housing, meaning the lense which costs $132. That part took 10 business days to arrive. When I went to install it I broke a piece of the frame that holds it to the bike. So I had to order a new $11 frame. Of course the part had to come all the way from Germany. Another 10 business days. So, there I was at 6:00pm sitting in my gas-guzzling 1967 Chevy C-10 on highway 85 in slow moving traffic watching the motorcycles whiz by in the carpool lane. Oh how I was yearning to ride again. Taking the truck to work added 30 minutes to my commute on the way home. I was getting cranky. Finally the headlight frame arrived and I got the bike all back together. I figured out that the bulbs were blowing because I had the adjuster screws too tight and the lense was hitting the frame when I went over bumps on the road. This shock to the hot filament caused them to break. It was a costly mistake because the PIAA H4 anti-vibration bulbs cost $45 a pop. My commute is much more enjoyable now and I feel alive again. Last week as I sat in my truck on the slow moving 85 I wondered why more people don't ride motorcycles to work. It just seems so stupid to drive a car when you can get there quicker, save on gas and have so much fun.
Posted by stephen at 11:43 AM | Comments (0)
May 19, 2005
Hey! I'm on the Radio!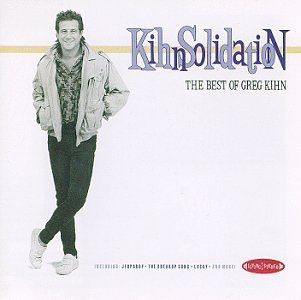 This morning on my way to work I was listening to the Greg Kihn Show on 98.5 KFOX. He was talking to callers and trying to guess what kind of accent they had and where they came from. I thought I would give them a taste of the old Canadian accent that everyone notices on me down here. I dialed in and got a busy signal but kept on hitting redial until suprisingly it started to ring. Chris Jackson answered the phone and I told him I had a Canadian accent for them. I was parked in the Orchard Supply Hardware parking lot and I was on hold. After waiting 15 minutes Greg Kihn came on the phone and said, "You're on the Air! Start talking and I'll guess your accent." So I said, "I was out and about yesterday." He yelled, "YOU'RE A HOSER!" He talked for a bit about touring in Canada and about meeting a beautiful Canadian girl who wanted to party after the show, eh? I asked him if he wanted me to turn up the Canadian a bit a do some more expressions. I did a thick Northern Ontario accent... "Hey dare, how ya doin'? I was a da hockey game last night, eh..." He was laughing his head off. I also did a Quebecois ordering breakfast for him..."I'll have two eggs side by each with an orange glass of juice." He laughed some more and asked me to repeat the "eggs side by each" again. He thanked me and as soon as I was off the phone I turned up the radio and heard myself from the beginning of the call. There was about a two minute delay, eh.
Posted by stephen at 10:41 AM | Comments (0)
May 3, 2005
Northwest Motorcycle Trip
Day 1: Wednesday morning I left at 7am and headed up to Portland. Instead of taking the 101 up the coast I decided to take the 5 to the 97 in Oregon. I heard that the 101 up the Oregon coast is congested with traffic in the towns along it. I was cautious not to speed up the 5 because the last time I was up there I was caught by a Highway Patrolman but was let off with only a warning. I've never been on the 97 north of Klamath Falls before. It rained on and off throughout the day and I arrived in Portland around 8pm. I was about half a mile from J. Laramie's place where I was staying that night and it started to downpour. I have never seen it rain that hard in my life. I could not see ten feet in front of me and the rain turned the streets into 4 inch deep rivers. Murphy's Law prevailed. All day throughout the showers I wore my Aerostich Gore-tex rain gloves but just prior to arriving at J's I took them off. After getting settled in, J. and I headed down the street to McMinamin's Pub for dinner and a drink. We then stopped by the Green Room for a drink and caught Stephen Ashbrook preforming.
Day 2: Thursday morning I put my Helimot Buffalo 365's in the dryer for two cycles which got them about 70% dry. I had the choice of taking a ferry north of Seattle or stopping in Renton, WA at Greenwood cemetary to visit the grave of Jimi Hendrix. Coincidentally, the first song on my iPod that morning was "Red House" so Jimi was calling. When I long distance motorcycle ride, I always eat light during the day. I got that tip from the Ironbutt Association's Archive of Wisdom. I did not have directions to the grave but I had looked it up on Streets & Trips on Tuesday night. I took the main exit into Renton and stopped at a restaurant and had a chicken salad. I asked the waitress with a thick Russian accent if she knew how to get to Jimi's grave. She had no clue who Jimi Hendrix was. I'm sure if I asked her were Lenin's tomb was, she would have given me excellent directions. I ended up using the web browser on my Treo 650 and googled "jimi hendrix grave" and got directions from some fan's site. When travelling alone I also like sitting at the counter. You get to socialize a bit more with others and the service is quicker since the waitress is right in front of you. Next to me a guy started talking about himself.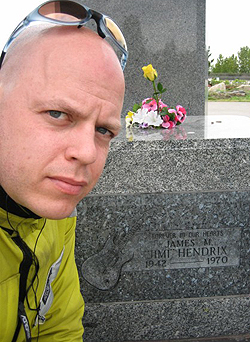 He breeds german shorthaired pointers. He talked for about 15 minutes about these dogs and how he was trying to find studs and other breeders and the color mixes and oh my! I got the check and I was in a hurry to get out of there, but he wouldn't stop talking about the dogs. I didn't want to be rude but I had to leave. As he was talking to me I just stood up and started walking to the cash register to pay my bill. He kept on talking. He finally caught on and said, "Nice talking to ya. Have a good trip." The cemetery was only about 2 miles away from the restaurant. I rode in and looked for the biggest memorial and there it was. I parked in front of it, took some pictures said hi to Jimi and left. I headed north to the border to settle my work visa business. I arrived at the US customs building at the border and instead of crossing into Canada, I did a U-turn into the the customs check in. I parked the bike and went in to do the paperwork. They say it's hit and miss when it comes to applying for a visa at the border. Last year was a hit and today was a miss. They said I needed letters from my previous employer to proved that I was doing the work I said I was. I was so pissed off. Last year they granted it to me and this year they change their mind. He said he couldn't kick me out of the country because I didn't leave it and I had a five days left on my current visa. My back up plan was to mail in the application to the Service Center. I was so frustrated and angry. I phoned my attorney from the parking lot of a Shell gas station and he said they don't know what they're talking about. So, I jumped on my bike and made my way to Winthrop, WA through the North Cascades National Park. As I rode my mind kept replaying the border scene as I disected all of their comments. There was nothing I could do, but make the best out of the rest of the trip. It was about 7:30pm by the time I made it to the highway that goes through the park. It rained and for the last 2 hours I was riding in the dark throught the Cascades keeping a lookout for deer on the road. I arrived in Winthrop at 10pm and got a room at the River Run Inn. I told the girl checking me in about my bad day and she gave me $10 off the room. She also hooked up a DVD player in my room so I could watch a movie. All the restaurants in the one horse town were closed. I told her I was hungry and she went home and brought me back a bag of microwave popcorn. Now that's service! I watched a few episodes of the British comedy "Coupling" while sipping vodka coolers and eating popcorn. Great show, I highly recommend it!
Day 3: Friday morning I hit the road on a diagonal south east direction towards Lewiston, ID. I rode through the fields where Washington apples are grown.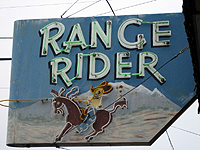 Lewiston is along the Snake River. When you approach it from the north you drop down at least 3000 feet to the city. It is quite a sight. I stopped in Clarkson to purchase the bare essentials: Jim Beam, Chunky and Pringles. I headed south through the spectacular Rattlesnake Pass - a motorcyclist's nocturnal emission! I arrived in Enterprise, OR at 5pm and called it a day. I got a room at the Ponderosa Motel and had a few drinks and a nap. Woke up at 8:30pm and went on on the town. I stopped off at a bar/restaurant and I was the only one in it except for the bartender. I had the prime rib. After talking with Brent over dinner at the bar I went around the corner to Range Rider Bar to enjoy Karaoke Night! A few drinks for courage and I got up and sang a soulful rendition of Hank Williams' "Your Cheatin' Heart." I always sing that or "I'm So Lonesome I Could Cry" with a southern twang in my voice. Locals got up and two stepped while I sang and entertained the bar full of about 20 people. The night was done and so was I.
Day 4: Saturday morning I woke and packed the bike up. My plan was to head south through Hell's Canyon. As I travelled down Wallowa Mountain Road I came to some very large patches of snow on the road. I thought it was just on the eastern side of this pass so I drove over it, parked the bike on dry pavement and walked down the road to see if there was any clear road. I ended up driving over about five 50 yard patches of snow and ice. I almost dropped the bike a few times and I was getting stuck. I had to rock it back and forth to get it out of ruts. All I could see was more snow. I pulled out my Motorola FRS radio that has an altimeter in it and it said 5440 feet. My triple-A map said the next pass is at 6000 feet! If there's snow at 5440 feet there will be more snow at 6000.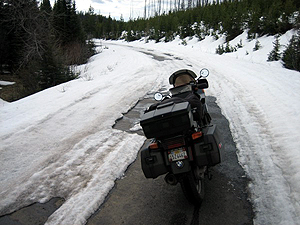 I was alone on a unmaintained road in the middle of no where. I decided to turn around because I didn't want to die. As I was making my way back, a Jeep Cherokee pulled up. I stopped and talked to the driver. He and his buddy where out exploring the pass. He said he thought it would be ploughed, but it wasn't. I started the bike back k up and started across the snow back to the pavement. I was out of breath, all wet and sweaty. I unzipped my suit and rode back to Enterprise. I stopped at the Shell station and asked the old guy there about the road. He said they don't plough it until Memorial Day weekend. He said I could drive up to Inmaha and take a dirt road down to the river and that would spit me out where I wanted to go. The road he recommended was gravel and bumpy though. Flat tire risk. I decided to take the north west highway out of town and cut my losses. I was hell bent on making it home in one day. In Burney, CA around 8pm my bike's odometer turned 100,000 miles. My headlight also burnt out and I pulled over into the bay of a Chevron station to change it. I've been through 4 bulbs in the past 3 months. Something is wrong. I thought it was electrical, but I figured it was the headlight lens vibrating and hitting the faring. As I pulled out the old bulb I broke the retaining clip that holds it in. Damn! Luckily the rubber boot that covers the bulb would hold it in by itself. During the end of my trip I was starting to halucenate so I followed a car in front of me to focus. This was the longest riding day of my life. I rode from 8am to 2am and covered 920 miles. The whole trip was 2543 miles. It was good to be home.
Trip Photo Album Here.
Posted by stephen at 11:24 AM | Comments (0)
April 26, 2005
Border Run
I'm travelling north to the Canada-US border tomorrow on my motorcycle to renew my work visa. This time I'm staying off of the interstates and taking the scenic route. I will be travelling up the coast of Oregon to Portland where I'm staying at a friend's place. On Day two I will go up the east side of the Olympic peninsula and take the Port Townsend-Keystone ferry. I should hit US customs by 3pm. After that I'm going to head east through North Cascades National Park heading towards Pullman, WA. Day three I will ride through Hells Canyon along the Oregon and Idaho border. There are supposed to be some spectacular twisties along this route. I should make it home by day four or five depending on my pace and how I feel. It looks like I'll be putting over 2600 miles on the bike with this trip. On the way back in northern California the odometer on the BMW K75S will hit 100,000 miles! I'll take lots of photos. Until then. Stephen.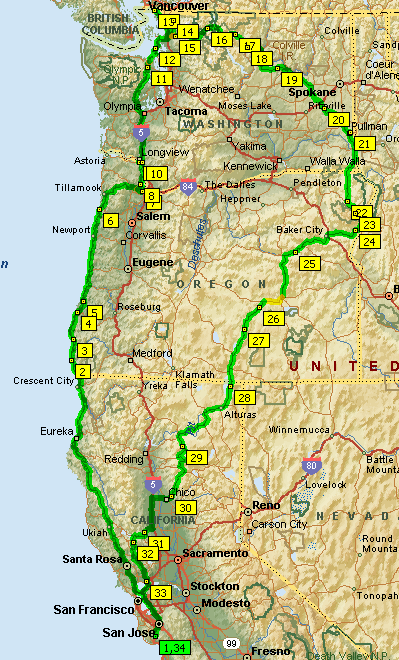 Posted by stephen at 2:56 PM | Comments (0)
April 21, 2005
Love on the Rocks, is Hard on my Back.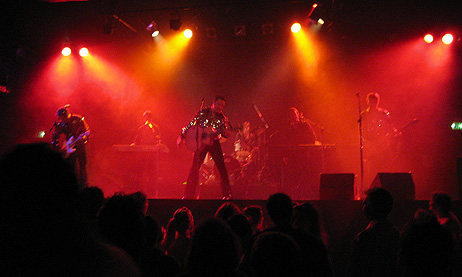 Last Friday, Sharon, her friend Amy and I went to the Catalyst in Santa Cruz to see Super Diamond. They are a Neil Diamond tribute band. The crowd consisted of a hodge-podge of cougars who where out on the prowl for gen-x's like myself who grew up listening to Neil Diamond because their parents listened to Neil. As the band came on I stood up and walked closer to the stage and started laughing to myself as Surreal Neil started singing. It was funny. Our parents back in the seventies would have seen Neil in concert, now the children of Neil fans have to go see the tribute band. Actually, you still can see Neil Diamond in concert. The "Jazz Singer" is on a world tour right now. The sad ending to this story is that we left at 11:30pm during the intermission because Sharon was tired. We missed "Sweet Caroline" and "Cracklin' Rosie" much to my chagrin. I guess we're getting old.
Posted by stephen at 9:02 AM | Comments (0)
April 15, 2005
The 1947 - 1998 Chevrolet & GMC Pickup Message Board Network
Burnszilla's Avatar
Burnszilla Burnszilla is offline
Registered User

Join Date: Oct 2003
Location: Los Gatos, CA
Posts: 6
Gasoline Smell in Cabin
Every time I fill up the tank on my truck the inside cabin smells of gas. I got home and looked behind the seat but could not find any leaking gas. The gas smell is not as prominent when the tank is half full. I did replace the gas cap with a new one. That stopped that gas from running down the side of the truck.
Any ideas?
__________________
Regards,
Stephen
1967 Chevy C10 Longbed
Edit/Delete Message Reply With Quote Quick reply to this message
Burnszilla
View Public Profile
Send a private message to Burnszilla
Send email to Burnszilla
Visit Burnszilla's homepage!
Find all posts by Burnszilla
Add Burnszilla to Your Buddy List
#2 Report Bad Post
Unread Today, 07:21 PM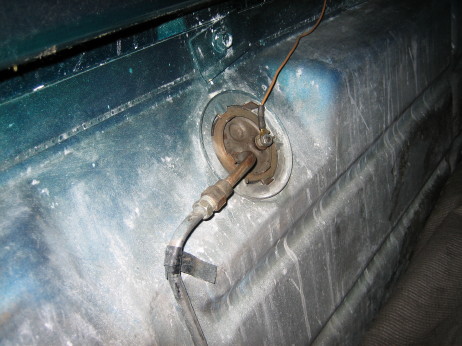 Longhorn Man's Avatar
Longhorn Man Longhorn Man is offline
like him, only sluttier

Join Date: Jan 2001
Location: Columbus Ohio
Posts: 28,242
I'll bet a punch in the gut that the spot where the filler neck goes into the tank has a real small leak. This is common, and preventable. When you gas up, notice that you are probably leaning on the pump handle...this puts too much of a load on the joint.
You can have the tank removed, steam cleaned, and repaired at many radiator shops, and I would assume for less than 50 bucks.
__________________
70 C/30 Longhorn, Caddy fragments/TH350
Back to plan B... POS 89 town car
72 C/20 longhorn, parts b!tch
The Longhorn Web Site
If I don't meet your standards, then you need to lower your standards.
Reply With Quote
70c10's Avatar
70c10 70c10 is offline
67-72 Addict!

Join Date: Feb 2002
Location: Perry Hall , Maryland
Posts: 4,163
Also check the O-ring on top of the sending unit.
__________________
Jim
1970 C/10 Fleetside w/Ghost Flames
355/350 Turbo w/shift kit
Hooker Super Comps
12 Bolt w/3:73 gears- Eaton Posi
Comp Cams XE262, Road Demon 625 and soon to have Sportsman II heads
http://tjazcustoms.freeservers.com/index.html
Reply With Quote
Posted by stephen at 7:58 PM | Comments (0)
March 31, 2005
Keeping Abreast with Motley Crue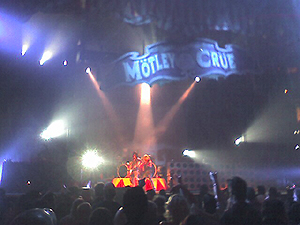 In November Motley Crue announced that they would be touring in the new year after a five year hiatus. I was quite happy. I was the biggest Crue fan in all of my high school. My bedroom walls were plastered with every poster and photo from Circus Magazine. And of course for Haloween I dressed as Nikki Sixx. I went online and found out that the fan club members could get premium pre-sale seats early. So I joined the fan club for $40 and recieved an ugly t-shirt and purchased two tickets for $90 each. The venue was the Oakland Arena. I knew the tickets would be floor seats but I did not find out until I recieved them in the mail two weeks prior to the concert date. I have seen the Crue twice prior to this concert in Toronto, but my seats were never this close. I assumed Sharon would join me at the concert, fist pumping and singing all the songs with Vince but she declined. Although Peter was an Iron Maiden fan in high school, I decided I would ask him. He liked the old Too Fast for Love and Shout at the Devil albums. Peter accepted the offer and the Cruesters were ready to rock! Late February, Sharon said we had to attend her friend's wedding on March 26th. I said, "Sorry honey thats the night of the Motley Crue concert. I'm so upset I'm going to miss the wedding." Sharon didn't fuss as I had purchased the tickets a month prior to the wedding announcement and I was in the clear. The tickets arrived and I was very happy to see that we acquired ninth row seats, left center stage! I thought we were in range for Nikki Sixx spitting water on us but it ended up we were about 50 feet from the stage. The day of the concert Sharon and I woke up at the Clift Hotel in San Francisco after an evening of celebration with my employer Topix.net. I was a bit hungover and cranky as Sharon dragged me through Macy's, shopping for bedding. I wished I was at home in my cave. At 2pm I jumped on my motorcycle and headed across the Bay Bridge to Peter's place in Oakland. The fresh air helped me out a lot. Peter and I went for a motorcycle ride through the twisty roads in the Oakland hills with views of the entire bay. The g-forces got my blood flowing and I was getting amped up for the concert. We had dinner in Rockridge and caught the BART to the area and got in line with thousands of other thirty to forty year old metal heads. It looked like a freaky high school renunion. I didn't wear my $40 Motley Crue t-shirt because I and Peter believe that wearing a band t-shirt to their concert is like wearing a San Jose Sharks uniform to a Sharks game. It's obvious I'm a fan already, because I paid 90 bucks to see them. I brought my camera to the concert because the tickets did not say "no cameras", but a the door the doorman searching me would not allow me into the concert. So, I had to check in the camera across the way where I could pick it up after the concert. I was thankful for the service. The concert was loud and the the Crue pulled every chiche rock and roll concert trick out of the hat. Half way through the concert Tommy Lee came out with a video camera. It was given to him because of his experience with video cameras. This camera was called the "Titty Cam." I was recording and it's display was on the big screens behind the stage. As he zoomed the camera on the crowd, girls starting revealing their breasts. Fate had it, that two hotties were parked next to us ready to reveal their mams. I whipped out my Treo 650 which has video recording capablities and caught the girls in the act. This is my first time editing with iMovie on my Mac. Enjoy! Click here to watch video with Windows MediaPlayer | Click here to watch video with Quicktime | Download Quicktime
Posted by stephen at 1:39 PM | Comments (0)
March 12, 2005
GSing on a K75S
My friend Peter and I went on a day long ride through the Santa Cruz Mountains to explore some areas we've never been. We went down Wright's Station Road to Lake Elsman and came to the gate that blocks off the road around the lake. The property is owned by the San Jose Water Company and it is supposedly policed. Later I learned that you can ride up to the Wright's Station Train Tunnel opening not far from the bridge that crosses the creek.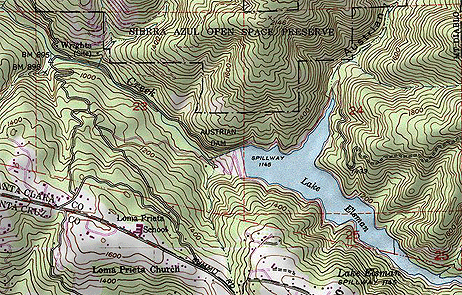 We turned around and headed west on Summit Road to Mt. Bache Road to climb our way up to Loma Prieta Ave. I have never such beautiful vistas from the ridges near Mt. Loma Prieta. We could see the clouds covering the Ocean for miles. At the end of the road pot holes and gravel roads appeared. Peter was anxious to tackle the roads with his V-Strom DL1000 and my K75S was not afraid so we went for it.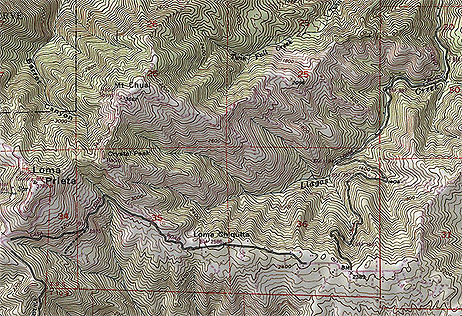 We rode past some beautiful homes that were quite aways from civilization. The maps I printed from Microsoft S&T were not that detailed and it didn't tell us that the roads were paved or not. We continued onto Uvas Canyon Road which looked more like a road suited for 4x4ing. We hung a left onto Casa Loma Road and GSed our way down that until we popped out at a clearing with two pickup trucks waiting behind a locked gate.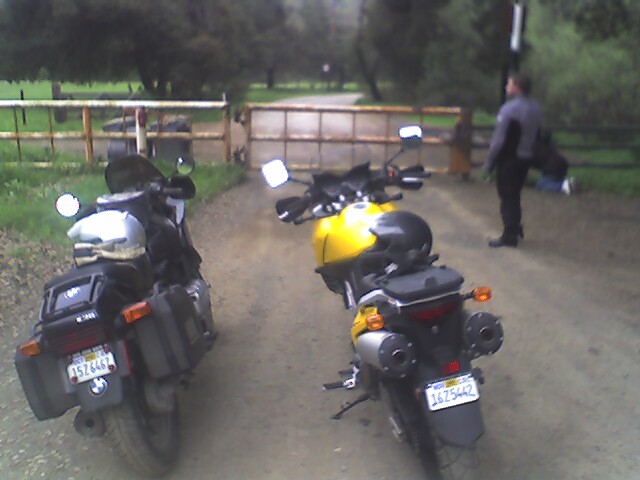 Damn! We were stuck. One of the guys waiting was a chiminey sweep and he had just finished some work in the area. We all looked around the gate for the key in some 'secret spot.' I asked him who he did work for and why doesn't he call them to find out where the key is. He couldn't call them because his cell phone was out of range. I pulled out my Treo and I had 4 bars. I lent it to him and he called and found out the key was on the back of the mail box just around the corner. Peter as usual was not prepared and was low on gas so we headed into San Martin via Glen Oak Ave along the Chesbro Reservoir Park. It was cool and foggy and quite beautiful along that road. People were fishing and the water was like glass. It was like a scene from On Golden Pond.
After filling up we drove through the city of Morgan Hill for my first time. The downtown area is very poshe. On the way back home we drove though New Almaden and headed up Hicks Road. Curious, we drove up Mount Umunhum Road to see how far it went, since we were on the other side of it this morning near Wright's Station. We knew of all the gates and the old contaminated Air Force Spy Station at the top of the mountain but there was no way past these gates even with motorcycles.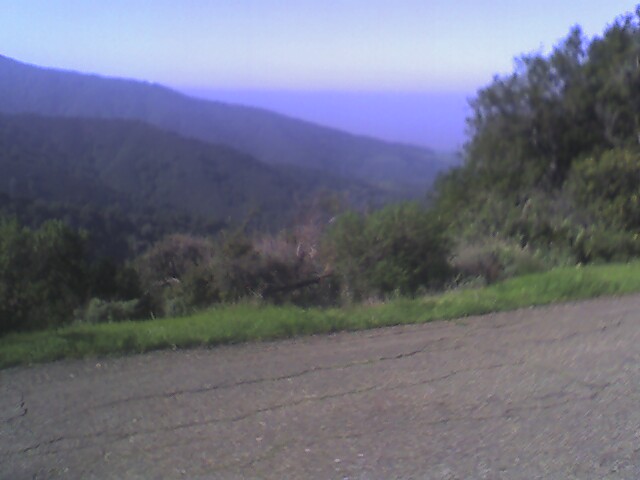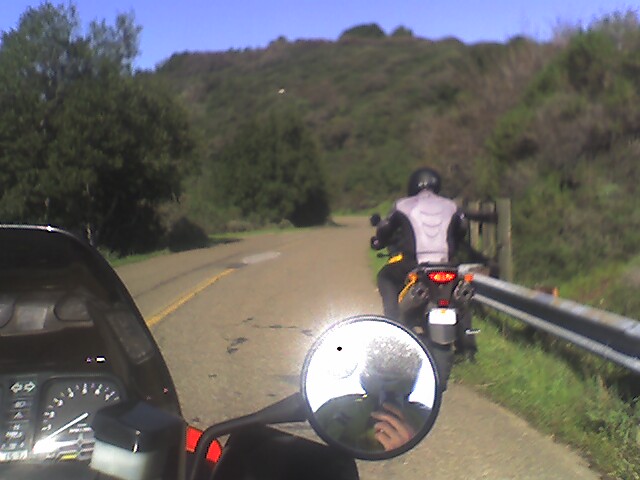 It was time to eat so we stopped off (for my first time) at the Los Gatos Brewing Company in downtown Los Gatos. Not only was the food amazing but so was the beer. On the way back home we took a ride around the Lexington Resevoir and traveled down the Old Santa Cruz Highway which is always a nice alternative to Highway 17.
When I got home I checked out my California Topo Map Software and found lots more GSable roads in the area. There's a lot more exploring to do in my area and a new R1200GS would come in handy. ;)
[I forgot my camera so I took the photos with my Treo 650.]
Posted by stephen at 10:04 PM | Comments (0)
March 9, 2005
Mile Marker 35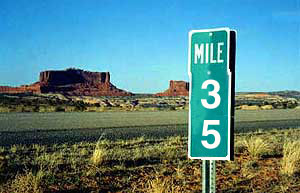 Tomorrow is my 35th birthday. I know one thing for sure will happen. My mother will phone me in the morning and sing "Happy Birthday" to me. When this week comes around every year it tends to bring lots of introspection. I'm not upset that I'm getting old. That doesn't bother me one bit. I'm just passing another mile marker on the highway of life. For some reason, the feeling reminds me of the November blues in my first year at away from home at university. Well cheer up Stephen! There's two types of highways in my map book; the long straight flat interstate or the curvy secondary roads through the mountains. I think I'll stick to the roads less travelled; yes the twisty ones. The views are better and my motorcycle likes them too. When you stop in the small towns on those roads the people you meet are much more friendly and interesting. This brings me to my next adventure at the end of April. I am going to ride up on my motorcycle to Washington and the US/Canadian border to renew my work visa. Last time I went, I took "the slab" otherwise known as the interstate there and I didn't see much. This time I'm going to take all the secondary roads and see parts of the northwest that should be seen. It may take two extra days but it will be worth it. I think I may have a birthday resolution here. I'm not always going to be in a rush like those people on the interstate. I'm going to take it easy and stop and smell the roses while driving on those back roads. What's the rush?
Posted by stephen at 9:20 PM | Comments (0)
February 21, 2005
Working in the Shed like Ted
Theodore Kaczynski that is. Although I was not making explosives.
Friday night I drove the K75S up the ramp I built into the shed. It was going to rain all weekend and Sharon was going to Tahoe for a bachelorette ski trip, so I thought it would be a good time to do some work on the motorcycle. Friday night I installed a Fuel Plus Trip Computer. They no longer make this product for my bike, but last summer I found one on ebay and sniped it like Vassily Zaitsev. The Fuel Plus replaces the clock in the speedometer case and keeps a constant record of your fuel, distance, and time. Essentials for the serious motorcycle touring monster like me. We're talkin' some serious open-bike surgery here. After installing the LCD unit into the gauges case I had to run a wire from the fuel system computer on the mid section of the bike. To insure strong wiring, I soldered all my connections and use heat shrink insulators. After it was installed I hooked the battery back up and the LCD lit up with the correct information on the display! I scrolled through all the functions and will have to wait until I fill the tank back up to reset it. I got to bed around 2:30am.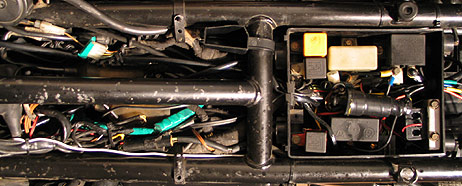 On Saturday I woke up at the crack of noon and went back in the shed to install an auxilliary four slot fuse box along with headlight relays I purchased from a Canadian living in Japan. His motorcycle headlight relay business is called Eastern Beaver. By the time the electricity gets you your headlights on a BMW, the voltage drops up to 20%. With the full power relays and a connection straight to the battery with heavy gauge wire you are going to get more voltage. This means a brighter headlight which helps illuminate the pupils of deer's eyes or it can help you be seen by those driving the cages. With my entire front fairing off from the Fuel Plus installation it was quite easy to install. With all the extra electrical accessories on my bike like the radar detector, powerlet port to my tank bag (which powers my camera, cell phone and mp3 player) and now the headlight relay it was time to install a four port fuse block, rather than having four in-line fuses dangling all over the place. I ran from the electrical box four wires and soldered a connector on the end and heat-shrunk-wrapped them. I had one extra fuse port so I pre-ran a wire for it too. So, when I have a future accessory to add, like perhaps a GPS, it would be wired and ready to go. Around dinner time I needed to get out so I called Harry and he and I went for a little road trip into Scotts Valley. I went to Radio Shack and Kragen to get some fuses and he went to Safeway. Afterwards, I treated him to some Starbuck's coffee. I'm terrible at these fancy coffee places. I have no idea what to order. When Sharon requests a coffee, I make her write it down on paper. "Venti-non-fat-de-caf-latte!" Oh my. So, Harry and I get the counter and the girl is in a pissy mood because there's only two of them working and the barrista chick is quite slow. Perhaps a rookie. At the counter I give my "Hmmmm what will I have?" Harry notices a lady behind us and allows her to pass in front. The cashier is gettin' fired up. We get our coffee and soon behind us grows a line of ten people. They are in the weeds and you can see the tension on her face. Usually they are so cheerful at "Five-bucks" calling out your name and making you feel like you're at home, but not tonight. Back to the shed after watching American Psycho, I finish the job and get to bed at 4:00am.
Sunday I woke up after noon and wandered back into the shed to start putting the fairing back together. I've had this bike apart so many times now, I can do this blindfolded. After a wonderful peanut butter and banana sandwich dinner, I plopped myself on the couch and watched the movie "Kinsey" (not out on DVD yet) provided by my connection to someone who is a member of the Academy of Performing Arts. Great film. At 9:00pm Sharon arrives back from her trip and it's nighty night.
Posted by stephen at 10:50 PM | Comments (0)
February 7, 2005
One Way to Decapitation
Today, I contacted CalTrans, California's Deptartment of Transportation to complain about the One Way signs that sit on top of the concrete median strip on highway 17. I phoned and emailed the Santa Clara County division and I spoke to the Santa Cruz County division. I have to deal with two different offices, since the highway is in two CalTrans divisions.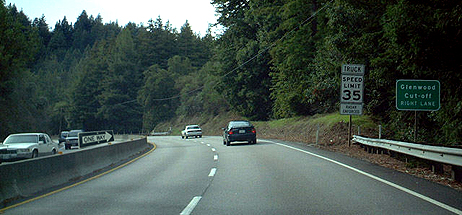 I've noticed that if a motorcyclist was to be knocked into the median strip in front of one of these metal, blade-like signs, they would be decapitated or sliced in half. There has to be about 30 of these signs along the highway. The gentleman in charge of traffic signs from the Santa Cruz CalTrans office was aware of the safety issue as it was brought up before and said he would get back to me why they didn't do anything about it. In some spots the One Way signs are safely mounted flush to the face of the concrete. He also mentioned that other large posted signs have break-away points. That does not include the 4x4 posts in the middle of the highway. I asked him if he would like to hit the 4x4 post while on a motorcycle. He agreed with me and said for some reason they don't put break-away cuts or drill holes in those smaller sign posts (small to cars, large to motorcycles).
I'm going to keep bothering them until they come up with a safe solution. I'll keep you posted on the outcome.
Posted by stephen at 10:29 PM | Comments (0)
January 31, 2005
Death Valley Daze X
Over the past weekend my neighbor Jim and I travelled to Death Valley on our motorcycles. The occassion was Death Valley Daze, a Rally organized by BMW riders and some Adventure riders. We departed Thursday night at 5pm and took highway 152 east to the 99 south and ended up in Bakersfield. We stopped off at a bar called Fishlips for a drink. It was open mic night and some young guys were jamming on stage. I asked the host if I could perform and he said go for it. I preformed the old "Dirty Song - A night at the Deli." While playing I noticed a few people paying attention to my illicit/descriptive lyrics and that was good. The last time I played this tune was last June, so this time I dissapointedly missed the punch line of the song -- "How could I replied. It looks like a taco cut up with a cleaver." When I was done I got off the stage and wanted to get the hell out of there. Jim was laughing. A couple of people complimented me. We rode over to the EZ-8 Motel and got a room for $46 and grabbed a quick meal at Denny's. It was raining in the morning and we had to depart for Death Valley. We took the Tehachapi pass east throught the rain and as we got into the Death Valley area the rain stopped. I managed to stay dry by putting on my rain suit over my Aerostich. Although the 'Stich is considered waterproof, now was not the time to test it. We stopped in Ridgecrest to stock up on vodka, Chunky, Gatorade, warm gloves, tarps and a colapsable camping chair. In the parking lot of the Big K we met Joe Denton another BMW rider, who knew Jim. He too was heading to the rally. We arrived at the Furnace Creek campground around 5:30pm and set up camp. We just drove up to a site that was occupied and we were invited to camp there. An older gentleman, Mike from Burbank on a Suzuki DR-650 was our host. I learned the proper meaning of "pillion" from him. We also met Vance a GS rider who is taking a year off to travel around the US and Baja. Last October Sharon and I had a German couple, Henno and Alex stay at our house as they were riding around the world. Coincidentally, Vance hung out with them in Baja, Mexico in November. Small world. After our Chunky dinner and the beginnings of our vodka consumption we headed over to Gerg's campsite to enjoy comraderie and a warm fire. I met many interesting characters that evening and we all had at least one thing in common; the love of motorcycles. Saturday was not a good day for Jim as he drank too much vodka, which he rarely drinks. He slept all morning and moped around the visitor center trying to recover. I dried out my sleeping bag and some other items at the laudromat. Camping tip: never put a tarp under your tent that is considerably larger than your tent. The excess tarp collects water and then puddles it under your tent if you are unlucky. Although a little damp around my feet the inaugural launch of my Marmot down sleeping bag was successful. I treated myself to a buffalo burger at the 49er Cafe and had a $3 shower at the Furnace Creek Ranch. That evening at the campground was a bit more tame as everyone had a long ride home the next day. We sat around the fire at the site next to us with about ten guys and exchanged stories until I hit the sack at 11pm. It was a real treat to get offered some Korean barbequed steak on a tortilla. There was and interesting crowd there; an attorney, a young guy just out of the Marine Corps, a retired under-Sheriff who was interviewed on 60 minutes by Morley Safer (learned that Morley is only about 5 feet tall) and a geeky PERL coder with a sprained wrist from a wipe-out that day. I was known as "The Canadian." We woke up at 6am, packed up our bikes and rode out of Death Valley on the 190 east. We got up to an elevation of 4956 feet at the Towne Pass and it was quite cold. The cold wind was blowing hard on the long stretch into Olancha. My fingers were frozen and it was a good thing we stopped for gas to warm up and put on another layer to prepare to cross the Sierras. The 178 east led us through the Walker Pass, past Lake Isabella. We stopped in Wofford Heights for lunch at Gary's Diner and to get some gas. We turned off onto the 155 which goes up to 8000 feet elevation. This means snow. The roads were lightly covered with snow, slush and ice patches. We crawled down the steep grade in first gear taking our time. Soon we where out of the snow and blazing down the road through lush green rolling hills with cattle grazing on them. We bolted up the 99 to the 152 at mach speed and arrived home at around 7pm.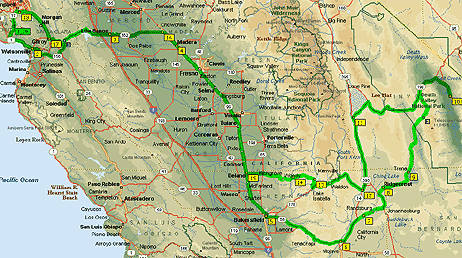 Getting home with bike and I in one piece and going places I've never been = a successful trip. Click here for photos.
Posted by stephen at 10:46 PM | Comments (0)
January 13, 2005
My Hands Smell Like Gas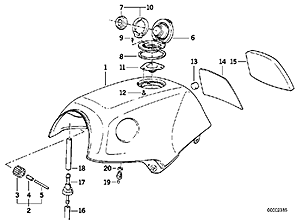 Wednesday:
After 3 weeks the rain stopped today, so, I was excited to finally ride to work. Uncovered the bike. I had my waterproof bike cover plus a blue tarp over that with bricks all around it. The K75S was still wet all over. I had the Battery Tender plugged in all this time. She wouldn't start. I had very little gas in the tank and realized that through condensation, water had gotten in there. After an hour it started and I barely made it to the Shell station at the bottom of Glenwood Drive in Scotts Valley. The exhaust smelled like a snowmobile. It surged the whole way there and I found shaking back and forth made it work better. In hindsight, most likely moving the water from settling on the bottom of the tank. I filled up the tank and it started. Got onto Hwy 17 northbound and it stalled. Got it going again and just barely made it to someone's driveway pull in and gave up. I was really frustrated at this point. I called BMWMOA's roadside assistance to pick me up. It took over an hour for them to get me because the tow truck driver had to go out and purchase tie down straps. He said they don't usually pick up motorcycles. He dropped me off at home after 2pm. I worked from home for the rest of the day. After dinner, I siphoned all the gas out of the tank. I replaced the fuel filter and strainer (I had this on hand because I was going to do this maintence soon). I blew the fuel/water mix out of the fuel pump with compressed air. I got her all back together and put 1/2 gallon of new gas in with some gas line antifreeze treatment and started her up. After a few cranks and some popping noise she started purring again like new.
Lessons learned:
1. Don't store your bike with a bit of gas in the tank.
2. Don't jump on a one way freeway with no shoulders unless you are 100% sure your bike is going to run okay.
Thursday:
And I won't be coming in today either. I got it to idle last night. This morning it wouldn't start! After cranking-recharging-cranking-recharging it finally started to idle. Put on all my gear sat on it gave it gas and it died! I was so frustrated and pissed off. Was there water in my gas can too?! Luckily Bob gave me a good project that was easy to work on at home. After work, I removed the spark plug wires and the contacts were very rusty. I sprayed some naval jelly on them, sanded them down with a dremel attachment, WD-40ed them and blew some compressed air in them. They're like new now. Bike turns over but it sounds like it's not even getting gas. I can hear the fuel pump engaging. Plugs have only 7,000 miles on them. Pulled the plugs. The were wet and covered in black soot. Cleaned them well and dried them. I let the cylinders dry out too. Took the gas tank off again, drained it, cleared the filter and the pump. I used Sharon's hair dryer to dry out the open cylinders. I screwed the three spark plugs back in, put gas in the tank and started her up! Running really well. I think the problem was the damn vent hose getting crimped under the tank. I've had that problem before. There is also a noticeable difference on how the engine runs. Prior to the cleaning of the contacts, it felt like it was running on only two cylinders.
I feel much better. I'm riding into work tomorrow.
Posted by stephen at 5:42 PM | Comments (0)
January 10, 2005
You Must Bend the Body to Untangle the Mind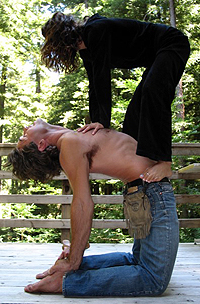 This past weekend Drew and Jackie visited us. Drew came to the area to play a gig in San Francisco and to teach some Bikram Yoga in Santa Cruz. Sharon and I decided we would attend Drew's Saturday 4pm class at the Village Yoga studio. We've done yoga before, but this is a fast paced yoga in a room heated from 105 to 120 degrees farenheit. The room was packed with about 30 quite attractive women, scantilly clad. I was one of 3 men including Drew. Note to single guys out there: Yoga studios are a great place to meet women in great shape. The session consists of 26 positions in 90 minutes. Within minutes I was sweating like I've never sweat before in my life. The towel on my yoga mat was soaked at the end. Being my first session I found difficulty balancing and locking my knee in some positions. I was also distracted by all the lovely ladies. Sharon was fully supportive of my dilemma. After the rigorous work out I felt energized. I've never felt that good after a work out before. We all went to Shogun Japanese Restaurant for sushi and had a fabulous dinner. We said good night and good bye to Drew and Jackie and they headed home to LA. As newbies to the yoga studio we were given a free pass to attend as many classes as we wanted for the next 10 days for $10. We went again on Sunday afternoon and this time the 90 minutes seemed to go by much faster and it was getting easier. We've never felt better. I'm going to cancel my gym membership and attend Bikram yoga classes instead.
Posted by stephen at 9:21 AM | Comments (0)
January 7, 2005
New Year's Eve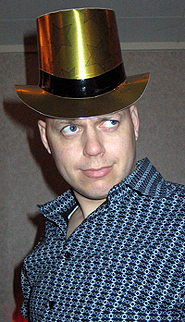 On New Year's Eve we rented a room at the Los Gatos Lodge. This is a motor lodge not a ski lodge type of inn. That evening we joined Jim and Jennifer and five of their friends to see local Los Gatos country singer Tim Murphy. He was performing in a large room at the Lodge. We all met in Jim and Jen's room to eat hordeurves and drink libations prior to the show. I was drinking vodka, soda with borrowed lemon from the bar. At 9pm we walked right throught the bar and into the show with our 16 ounce styrofoam cups full of booze in hand. We were happy we didn't have to line up for overpriced small drinks at the show. Refill trips back to the room were frequent. If you want to see a lot of people wearing cowboy hats, go to a country music concert. They all come out of the woodwork. It's kind of like you only see people wearing hockey jerseys at a hockey game. You don't see many people wearing cowboy hats in the urban areas of California. Other popular cowboy hat areas are in Texas, Montana or any other state where your main form of transportation is a horse. There were a lot of, how do i put it, interesting looking people in attendance. There was no stage in the room that held about 75 people and we all stood to the right of the band within roadie distance. I actually played roadie a couple of times, helping the rhythm guitarist find the end of his cord after he changed guitars between songs. We all danced and recieved high fives from Tim. I particularly enjoyed his rendition of "Sweet Home California," with altered lyrics from Lynard Skynard's hit. After the show we went into the bar where some girl who was a losing contestant on American Idol had just played. I sat down at the bar and ordered a Coke to hydrate myself. Sharon was standing beside me, anxious to go back Jim and Jen's room to party some more. An older black lady on the barstool next to me started chatting me up, laughing at everything I said and being overly friendly. Some might call it flirtatious. I introduced her to the reluctant Sharon and she introduced us to her husband who was beside her, but he failed to recognize us as he gazed out into the bustling crowd of people. Sharon kept nudging me to go back to the room. I wanted to chill out and sip my pop and talk to strangers. So, back to the room we went. We stayed up with Jim and Jen and friends till about 3am. We woke up at 11am in our king size bed threw on our clothes and drove home. I was fine but Sharon was hungover. When we got home, our neighbor Harry called to wish us Happy New Year and to get technical support for Windows XP, and I told him of our evening at the Los Gatos Lodge. "Oh! The Los Gatos Lodge," said Harry, "That's a notorious SWINGERS hang out!" Married swingers that is. Harry noted that he was a victim of the Los Gatos Lodge in his younger years. So, now I understand why the lady at the bar was so friendly. I'm was flattered, Sharon was grossed out. Happy New Year! (I'll post a photo later tonight.)
Posted by stephen at 8:17 AM | Comments (0)
December 29, 2004
Dismembering the Tree

It was just like a scene from the Sopranos except I was dismembering a Christmas tree instead of Richie Aprile's body. I took my 11.8 amp DeWalt reciprocating saw and trimmed the bottom branches off. I unscrewed the tree stand bolts and dragged the dead body out onto the deck. I then cut the tree in three and threw the pieces off of the deck towards the fire pit below. Thoughts raced through my mind of the CSI team spraying a form of luminol that detects fir tree sap. I was doomed! Needles were everywhere! I Shop-Vac'ed for hours and mopped but the needles kept reappearing. Segue. I had this idea for a TV show. I think they should mix the Sopranos with CSI. It just bothers me to see these mafia guys kill off eachother so sloppily. The CSI team would have found Ralph Cifaretto's blood all over his kitchen where he was killed. Everyone knows that bleach can't hide blood stains from the luminol.
Posted by stephen at 10:01 PM | Comments (0)
December 25, 2004
Christmas Eve Drunk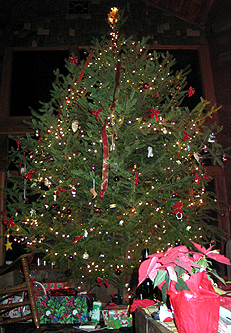 My benefactor Mister Richard Skrenta has inspired me to write tonite. My QWERTY fingers dance, fueled my Mr. James Beam and Coca Cola. My respected audience: Please do not expect a grammatical opera of prose as I write this evening pissed out of my skull...After making crank calls to many relatives and friends impersonating Russian boyfriends from highschool cyber-stalking or parking authority hot shots bitching about Mazda Miatas parked illegally, my Emmy Award winning impersonations beckoned for recognition. The last phone call of the evening portrayed four year olds donning Darth Vader voice encrypted helmets sounding like a birthday party at Chucky Cheese without earplugs. Meanwhile, yoda is in Palm Desert playing black jack until the wee hours of the morning. On we go. Here I sit in robe, drinking Crystal Geyser Sparkling Water hydrating my liver that begs for forgiveness. How romantic you say? Today was one of the most productive days I've had in awhile. I nailed the redwood batons over the siding repair job left over from this summer. At 5pm the job was complete. Some festive drinking needed to be started. After guzzling Jack Daniels and Coke the night prior and discovering my body's affinity to the beligerent accolades of white trashism, I thought I would stick to the recipe. Mr. Jim Beam was hiding in the corner. Sharon was impatient to open gifts. The fireplace was filled with the fallen redwood branches from the windstorm from the night before.
The lovely Sharon made appetizers with cucumbers, smoked salmon, philly cream cheese and a single caper. We ate so many, that our meat ravioli dinner was avoided due to our stomach's fullness. We telephoned all the members of our families as we got plastered upon our olive color couch. Back in Canada it was around -20 degrees Celcius freezing rain and snow storms. Meanwhile we were having troubles with the 68 degrees fareheit. The night was young so we headed over to our neighbors, Claudio and Kim's house to harrass them. Claudio concocked martinis comparable to the size of hurricanes in the French Quarter. This seemed to do it. We tried playing Trivial Pursuit but my brain was in a knot. Standing up to leave I tripped on some imaginary object on the floor and dropped like tree, face planting the floor. I didn't feel a thing. Merry Christmas and Happy Hangover!
Posted by stephen at 1:16 AM | Comments (0)
December 20, 2004
Here Comes Santa Claus...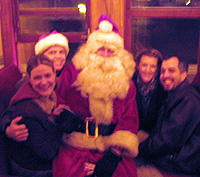 Christmas is upon us. So, I organized a little field trip for us and our neighbors to ride the Roaring Camps Railroad Holiday Lights Train through Santa Cruz. After obtaining our tickets we boarded the train and grabbed some seats in the rear car. Live roving carolers were singing on an amplified sound system that blared throughout the train. There was a car with a bar serving hot apple cider sans alcohol. I was prepared for this tame train and brought my own travelling coffee mug full of Bailey's and vodka on ice. Trains and alcohol go together like milk and cookies. Just ask any hobo. One Christmas when I was in university, I took a train home to northern Ontario and we drank the beer car dry. Yes, Canadian trains have "Beer Cars." Back to Santa Cruz... After the train started rolling Mrs. Claus entered the train followed by Old Saint Nick himself in the flesh. Not wanting to miss this photo opportunity with the jolly fat man in red I invited him to jump onto our laps for the shot. As David took the photo, my hand was upon Santa's lower back, which I discovered to be quite moist! So, I called him on it and said, "Santa! You're all wet! What's with that?" He avoided my question and just Ho-Ho-Hoed his way on to the next wided-eyed kid. Meanwhile, my hand is covered in Santa juice. Forensics specialist Stephen kicks in. Is it sweat? The train is cool inside and half of the cars are just covered in tents with the cool ocean air blowing through them. I know about sweat in costumes. I used to work professionally as Freddie the Falcon, the mascot for ASCU Community Credit Union. I'll tell you, I lost about a gallon of fluids in 85 degree weather on a float in the Community Day Parade. There's no reason Santa should be sweating enough to wet his suit. If so, perhaps future Santa suits should be made of breathable Gore-tex. I know what you're thinking, but Santa wasn't riding the Nightrain and he was not covered in booze. There was no odor present. Curious, I followed the moist merry old man into the other cars as he greeted the children and posed for pictures. Most of the train's passengers were swilling the free cider and the rocking of the cars back and forth as we rolled along may have caused some spillage onto the red suit. I noticed no stickiness to the moisture, but the cider was watered down a bit. I've got a theory. I'm thinking, maybe this year is Santa's turn to get even. Maybe that gig at the mall didn't work out with all those little kids sitting on his lap and wetting their pants. Yup, Santa's gettin' even this year! You can depend on it!
Posted by stephen at 10:15 PM | Comments (0)
December 14, 2004
When the Headlights Hit Your Eye like a Big Pizza Pie...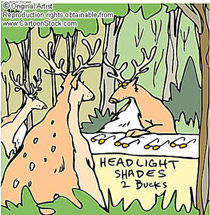 Last night Sharon made a very good homemade pizza with Trader Joe's pizza doe. She put prosciutto that we had in the fridge on it. Prosciutto is the best pizza topping. Pizza places don't provide it as a topping because it is so expensive. Our neigbor David who runs a gourmet pizza restaurant said that pizza is a great product to sell because it only costs about $1.25 to make. Which leads us to the nightmare I had last night. I did a google search on pizza induced nightmares but nothing substantial came up. Anyways, I'm delivering a pizza to a house on the old street we used to live as children, LaSalle Court with a lawn covered in white snow. Dennis Guerrieri is laying in the snow amongst wild deer who are rather inquisitive of the pizza I am delivering. I am wearing the hat of my former 1987 employer, "Papa Piccolino's Pizza." Don't laugh, this is true. We had very high quality red, white and green ski jackets (that we got to wear to highschool during the day) that everyone was envious of. A fleet of seven white Dodge Omnis mixed with their sibling Plymouth Horizons with automatic transmissions rested in the freshly paved stip mall parking lot on Great Northern Road. These cars were treated far worse than rental cars. Train tracks in Sault Ste. Marie's northwest end were atop high ridges on the road. A handful of the driver's enjoyed that late night run to Old Goulais Bay Road and the opportunity to get all four wheels in the air. It was like getting your wings. Other vehicle testing occurred on a regular basis, like driving the car at high speeds in first gear or shifting into reverse while travelling at 60 kilometres per hour in drive. For some reason these acts of god were not covered by the 60,000km drive train warranty. After about three years that business decided to call it quits. The young owners Arthur and Craig where great guys. Too much money was spent on radio advertising in the first year. Also the pizza market is a hard one to crack in the Soo. The cost was high for that lesson learned in that business venture. Back to the dream. So, Anthony Brunetta is to my left and I start throwing pieces of pizza to the deer who is catching them like an Australian shepherd would a frisbee on Bondi Beach. I ran out of pizza and the dear turned into a posessed demonic deer and puts Anthony into a headlock, choking him! I pass through that space between sleep and consciousness, disoriented not sure of where I was, or what side of the bed I was on. After realizing, I got up to drain the main vein.
One of our favorite neighbors came over tonight because he was looking for his bottle of Grey Goose vodka that he conviently stores in our freezer. After consuming a shot he told us how he hit a deer this evening with his white Toyota 4Runner on Glenwood Drive. He had no idea if the deer lived but there's a catering job's worth of damage to the front of the vehicle. Yesterday I noticed the one year old heated grips on my motorcycle are no longer working. Sharon accidently dropped on the kitchen floor, two pieces of her famous pottery collection. Broken pottery. Sad Sharon. Happy Holidays.
Posted by stephen at 9:59 PM | Comments (0)
December 10, 2004
Our Tree is Bigger than Your Tree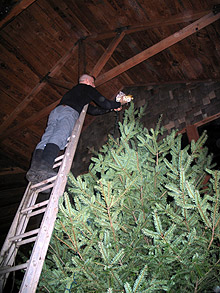 I don't want to mention any names but one of our neighbors brought over a very large Christmas tree for us. After some trimming, it stood 16 feet tall. We wrestled it in through the side door and put it against the living room wall. Well after two nights we realized it was a bit too wide and it impeded the exit, in case of god forbid, a fire. So, after playing "Designer Guys" and rearranging the living room, the tree ended up in front of the window, thus giving us more room width-wise. David and Keiko, other neighbors, showed up at 6:14pm with enough sushi to sink a Japanese submarine. David forced me to drink a shot of Patrón and soon we were chopstickin' our way through rice wrapped eel and yelling Kampai! Sumo wrestling was unavoidable. More drinks were consumed and then I was on top of an 18 foot extended ladder mounting an angel, with a power cord coming out of her where the sun don't shine, to a 16 foot tree. The neighbors left because they had tree envy and the lovely Sharon and I resumed decorating the Mountain Charlie Tree with the lights, bulbs and ornaments from all of our travel destinations.
A few drinks later, I was up near the top hanging a red bow when the ladder fell off of the beam and fell into the tree with the window catching the tree, the ladder and myself. I clung to the ladder all puckered up screaming HEEEEELLLLP! I pulled the ladder off of the tree being careful not to step on a myriad of broken ornaments. As the tree propped itself back up I heard the tree's drink trickling down the furnace heat vent in the corner. I thought there must be some bad Karma associated with the tree that was given to us. Perhaps, you'll be seeing me volunteering at the St. Francis Soup Kitchen in Santa Cruz this holiday.
Public Service Announcment: Please don't drink and get on a ladder and decorate a 16 foot tree this holiday season. Later skater.
Posted by stephen at 8:36 PM | Comments (0)
December 7, 2004
Warming up the House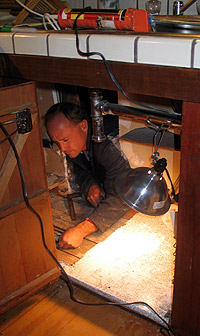 Today, Bogner Sheet Metal showed up at our house to start the installation of our new Trane propane furnace. It's going to take them about a week to complete. They are putting it into the crawl space under the house. This will free up the closet on the main floor that the old furnace was in. I plan to tear out the closet and open up the kitchen, doubling it's size. The ancient diesel/oil furnace that was in the house when we bought it was not up to code and it also had a crack in the combustion chamber causing an awful smell. We haven't used it since the summer when we ran out of fuel. I did some research and found out that our title insurance covers undisclosed items that were not permitted. After dealing with the county planning department and the title insurance company for two months, I finally won the claim and the insurance comany is paying for the new furnace installation which runs about $12,000. The catch is the deductable is $4750, but it's still a good deal. One of the issues of the new install is finding a place to put the cold air return duct. After talking with the project manager and learning about air flow and CFMs, I'm proposing we put it inside the lower kitchen cabinet with the grate opening on the wall on the back hallway. We're also adding extra heat vents to the office/bedroom, upstairs washroom and downstairs washroom in the guest bedroom. I've also obtained a 500 gallon propane tank. This is a big tank; most people have 250 gallons. My reasoning for the large size is to have the ability to purchase propane at a bulk rate in June during off-season when propane prices are low, and have enough gas to last all year. Owning your own tank is also a good thing because you can shop around for gas from suppliers without being locked into a contract. The large tank will also come in handy in the future when the stove is replace with a gas one. I also plan to switch the electric hot water tank to a propane powered hot water on demand unit resulting in power savings. By heating the house with the wood burning stove alone, we have almost burned through a cord of wood in three months. On really cold nights it just doesn't have the BTUs to warm the room. By next week that won't be a worry.
Posted by stephen at 10:01 PM | Comments (0)
December 6, 2004
Mountain Livin'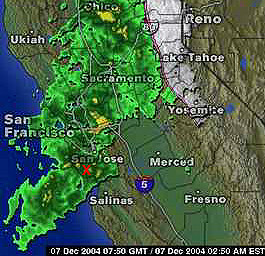 It's raining. It's the rainy season. We are up to almost 1 inch per hour right now. This is northern California's version of snow in the winter. I do not miss the snow back in Canada one bit. Sure snow is nice once in a while, but I guess it's the freezing weather I do not miss. Neighbors have told me every 5 years or so we do get a little bit of snow up here in the Santa Cruz mountains, but it only lasts for 2 days. I find the pitter patter of the rain on the roof of our house to be quite relaxing. Cleansing. Looking out the windows at redwood trees with the fog floating around them is quite a sight. Late at night I put on my motorcycle rainsuit and Tilley hat and take Justice for a walk. It's so much fun for me but not Justice. She hates the rain. If you put her outside to do her business while it's raining, she'll just stand on the porch out of the rain. When you take her for her walk in the rain, she squints her eyes as the drops hit her face. She appears to be pissed off and would rather be sleeping in front of a warm fire. Maybe its time I invested in a doggie rainsuit. Our neighborhood is situated on the side of a hill so water flow and drainage is taken seriously because the rain can cause mudslides. This past week the road manager has put out sand bags in high flow areas so that the asphalt on our roads does not erode. Last February during a heavy rain, a redwood tree fell just down the road 100 yards taking out the power to our neighbor's house and blocking the roadway. I was at home at the time and heard it fall. I was suited up in no time with my chainsaw in hand ready to help. A group of guys in the park with help from a backhoe had the road cleared in an hour. With the rain, comes broken branches that take out powerlines. Pacific Gas & Electric (PG&E) are usually slow to respond and we've gone a without power for over 16 hours a couple of times. We light up the candles and huddle around the wood burning stove. Moments later you hear some of the neighbors' generators start up and they run all night long. Although having a generator is a nice luxury to keep your fridge running, I find the power outages a nice break from modern technology. Waking up the next morning in a 55 degree house and jumping into a cold shower as I cuss like a longshoreman is quite an invigorating experience.
Posted by stephen at 10:51 PM | Comments (0)
December 4, 2004
Snarfing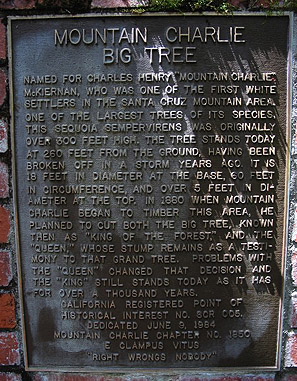 Here is something I didn't know... I learned last evening that one of my neighbors is a member of "E Clampus Vitus". They call them "Clampers". It's a men's fraternity that dates back to miners in the 1800's. Mark Twain, Ulysses S. Grant, and Mountain Charlie McKiernan (my neighbor from years ago) were members. In modern day California they research and build historical markers. Philanthropically, they support widowed women and their children. Rumor has it they like to drink and carry on. I noticed that on the ECV Mountain Charlie 1850 Chapter's website, they are missing photos of some markers. Since the Mountain Charlie Big Tree is about 500 yards away from our house, I happen to have a good photo of the marker. So, I emailed it to them tonite. I told the webmaster I will make the effort to obtain the photos of the other 22 markers without photos on their site via my motorcycle. This is called... Snarfing (verb): To roam around towns and countryside, looking for a historical landmark or historical marker. I've done some snarfing in the past but I was not aware that I was snarfing.
Posted by stephen at 9:34 PM | Comments (0)
December 2, 2004
What's That Smell?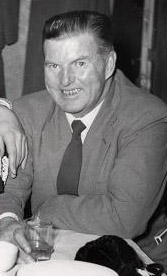 While riding a motorcycle you smell much more things compared to riding in a car. On Glenwood Drive I smell burning wood from fireplaces and the odd deer fart. While transversing highway 17 I mainly smell trees and brake pad dust. Over the past few months, I have encountered some smells that I thought were psycological flashbacks from my college days. [Oh, the good old college days.] This morning as I hopped onto highway 85 north I could smell the sweet smell of pipe tobacco. Memories of my grandfather Cecil came about. A prime sample of the ol' Olfaction and Memory study. He didn't smoke a pipe, but he sure did smoke the odd carton of DuMaurier cigarettes. Why am I smelling this smell? I cruise over to the left lane and look into a Chrysler LeBaron on my right and the gentleman driving is smoking a pipe. And having a dandy of a time at it! I was amazed that I picked up that odor at 64.8 miles per hour! Now this answers my question about the other flashback smells. Driving home on 85 and 17 a couple of times a week I pick up the odor of marijuana. Many people on this commute are on their way home to the hippy liberal city of Santa Cruz. (I'm not saying that everyone in Santa Cruz smokes weed nor am I against its medicinal powers.)
Conclusion: There must be a lot of people with AIDS, Cancer, Multiple Sclerosis, Epilepsy, Chronic Pain, and god forbid Glaucoma! driving home lightin' up a jay or diggin' into their dugout and enjoying the dried leaves and flowering tops of the pistillate hemp plant that yield THC and are sometimes smoked in cigarettes for their intoxicating effect.
Posted by stephen at 8:16 PM | Comments (0)
December 1, 2004
Motorcycle Love
Let's just get all the motorcycle talk out of the way... I commute 60 miles to and from work each day on my 1987 BMW K75S. That motorcycle is my number one passion, besides my wife Sharon. You're going to hear many stories about it in the future, so you should know about its history. This is my third motorcycle in 3 years. My first two bikes were a 1977 Kawasaki KZ400 and a 1980 KZ750. I bought the BMW for $2100 in August 2003 off of a guy in San Francisco. It had 72,000 miles on it. That's quite a bit for a motorcycle, but not for a BMW motorcycle. These 3 cylinder "Flying Brick" engines are know to go for over 300,000 miles without a rebuild. In the past year and 3 months I have put 20,000 miles on the bike. I've given it a major rehaul since I've had it. I installed heated grips right away. I've replaced the front fork springs with Progressive springs to give it a more sportier ride. I had Cal BMW replace the steering head bearings. It was painted metallic blue, was banged up a bit so I had it painted Classic Metallic Black by my new friend Jeff at Mountain View Cycle Paint. I chose this color from BMW's official paint colors for that bike. The splines on the rear drive shaft and final or bevel drive were worn so I brought the final drive and drive shaft to Kitchener, Ontario this past July to be rebuilt by Bruno's Machine & Repair. He rebuilt the parts to better than new BMW parts for less then half the price; $400 Canadian. It was interesting going through customs with a 25 pound chunk of metal in my suitcase. While I had the rear end off of the bike, I replaced the swing arm bearings. The old stock shock was not working that great anymore so I replaced it with a fully adjustable Wilbers Shock. When I ordered it they asked my weight, my wife's weight and my luggage weight. They tuned the shock to my riding style. This shock totally changed the ride of the bike. It now handles like a brand new machine. The bike is quite easy to work on and I do most of my wrenching myself, except for the big time consuming jobs. I had San Jose BMW replace the clutch and the rear main seals in September. This bike has a dry clutch. Through craigslist, ebay and Peter, I've obtained all the BMW luggage for the bike including full size integral cases, slim city cases and a 22 liter top case that attaches to the rear tail rack. I recently upgraded the the alternator from a 32 amp to a 50 amp one I bought on ebay. I bought Sharon an heated electric vest for those cool rides and the extra power was needed. I also installed a switch for the high altitude loop and and extra power socket for Sharon's vest. On Thanksgiving weekend Sharon rode down with me to Los Angeles and the front brake master cylinder started to leak. I ordered a new one and it will be installed this Saturday along with three new air intake hoses. The previous owners obviously were'nt as loving a I am. If you don't change your brake fluid yearly, water gets into it and starts rusting away at the master cylinder, which causes pitting. I've put so much time and money into this bike that I've decided I will never sell it. It's just not worth it. In the future I would like to purchase my dream bike, a new BMW R1200 GS. On that note, sweet dreams.
Posted by stephen at 10:15 PM | Comments (0)
I'm going public
I've decided to start blogging. Perhaps this is a redundant statement. The purpose of this blog is to inform, entertain and perhaps educate. I've been told I have "no filter" from people who know me. Now comes the hard part. How obscene can I be in my blog? Can I cross the line like I have done so many times before? I must come up with a set of rules first. Rule #1: Keep my wife happy. Rule #2: Be honest. Perhaps these rules may be a contradiction, but I'll give it a try. Stay tuned. I hope you enjoy my point of view.
Posted by stephen at 3:41 PM | Comments (0)