« Morro Bay, California Ride, Eat & Camp | Main | Big Sur Ride and Camp »
December 15, 2007
The Death of a Motorcycle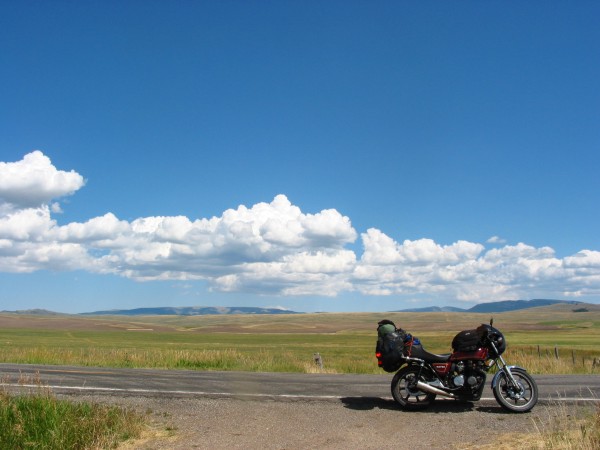 Back in the summer of 2003 Peter, my friend, and I went on a motorcycle journey of a lifetime. At the time, I was riding a 1980 Kawasaki KZ750 with bicycle panniers strapped to the back and Peter was on a 1988 BMW K75S. We rode through the Pacific northwest up to Vancouver Island and across British Columbia to Calgary to visit his brother Dave. We then traveled south through Montana, Yellowstone Park, Wyoming and Idaho. We slept under the stars, ate the finest grease at diners and met interesting people along the way. Even though Peter and I returned home safely, I can't say my KZ750 did.
As we rode westward across Idaho in the darkness, around 10 o'clock, my guardian angel watched overhead. I was in the lead flying down a two lane rural highway at 80 miles per hour as Peter followed. Suddenly, out in front of me jumped a huge elk and a smaller one following. I instantly hit the brakes and most likely hit more rear than front. Miraculously, I missed the elk and kept the bike up. All Peter saw was me, the elk, and a 50 foot patch of rubber on the road. This was our introduction into riding at night so we immediately checked into the next motel down the road. I was new to riding and now I wished I had known better. The leading cause of motorcycle deaths in the US is from collisions with deer.
The next day my engine seized in the desert, twenty-five miles north of Winnemucca, Nevada. About a month before the trip I had installed an Dyna electronic ignition on the bike. The problem was I had melted a wire that ended up grounding out on the frame so the bike kept blowing a fuse and stalling. Stupidly, I ended up bypassing the fuse by wrapping the glass tube fuse with tinfoil. The ignition eventually failed and I was only running on two of the four cylinders by the time we got to the Idaho-Nevada border. Within thirty miles, the engine was spewing oil and smoking. A while later we pulled into a Chevron gas station to assess the situation only to discover the bike was cooked. My second guardian angel came in the form of an ex-convict on parole. He and his crystal methed-out girlfriend gave me and the KZ a ride into Winnemucca in their 1976 Ford F250 as Peter followed. In the cabin of the truck I calculated that I had more teeth than the two of them put together. Good times indeed. I could not have planned the timing of the breakdown any better. We ended up throwing the bikes in a Uhaul cube van and drove home to the Bay Area the next day. A few weeks later I purchased a 1987 BMW K75S with the money from the parted-out KZ750. My addiction to BMWs began.

Posted by stephen at December 15, 2007 9:46 AM
Comments
Post a comment
Thanks for signing in, . Now you can comment. (sign out)
(If you haven't left a comment here before, you may need to be approved by the site owner before your comment will appear. Until then, it won't appear on the entry. Thanks for waiting.)