April 15, 2005
The 1947 - 1998 Chevrolet & GMC Pickup Message Board Network
Burnszilla's Avatar
Burnszilla Burnszilla is offline
Registered User

Join Date: Oct 2003
Location: Los Gatos, CA
Posts: 6
Gasoline Smell in Cabin
Every time I fill up the tank on my truck the inside cabin smells of gas. I got home and looked behind the seat but could not find any leaking gas. The gas smell is not as prominent when the tank is half full. I did replace the gas cap with a new one. That stopped that gas from running down the side of the truck.
Any ideas?
__________________
Regards,
Stephen
1967 Chevy C10 Longbed
Edit/Delete Message Reply With Quote Quick reply to this message
Burnszilla
View Public Profile
Send a private message to Burnszilla
Send email to Burnszilla
Visit Burnszilla's homepage!
Find all posts by Burnszilla
Add Burnszilla to Your Buddy List
#2 Report Bad Post
Unread Today, 07:21 PM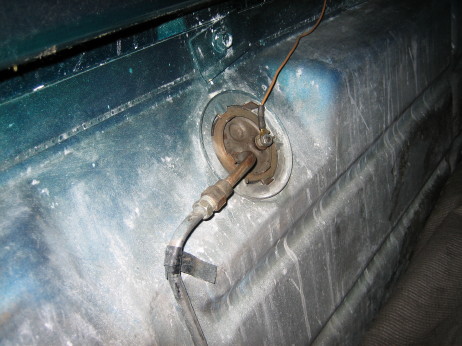 Longhorn Man's Avatar
Longhorn Man Longhorn Man is offline
like him, only sluttier

Join Date: Jan 2001
Location: Columbus Ohio
Posts: 28,242
I'll bet a punch in the gut that the spot where the filler neck goes into the tank has a real small leak. This is common, and preventable. When you gas up, notice that you are probably leaning on the pump handle...this puts too much of a load on the joint.
You can have the tank removed, steam cleaned, and repaired at many radiator shops, and I would assume for less than 50 bucks.
__________________
70 C/30 Longhorn, Caddy fragments/TH350
Back to plan B... POS 89 town car
72 C/20 longhorn, parts b!tch
The Longhorn Web Site
If I don't meet your standards, then you need to lower your standards.
Reply With Quote
70c10's Avatar
70c10 70c10 is offline
67-72 Addict!

Join Date: Feb 2002
Location: Perry Hall , Maryland
Posts: 4,163
Also check the O-ring on top of the sending unit.
__________________
Jim
1970 C/10 Fleetside w/Ghost Flames
355/350 Turbo w/shift kit
Hooker Super Comps
12 Bolt w/3:73 gears- Eaton Posi
Comp Cams XE262, Road Demon 625 and soon to have Sportsman II heads
http://tjazcustoms.freeservers.com/index.html
Reply With Quote
Posted by stephen at 7:58 PM | Comments (0)