Baja, Mexico Roadtrip - June 15 - July 3, 2002

Album 1 - San Felipe to Bahia San Luis Gonzaga

Album 2 - Coco's Corner to Bahia de Los Angeles

Album 3 - Bahia de Los Angeles to Mulege

Album 4 - Mulege to La Paz

Album 5 - La Paz

Album 6 - Cabo Pulmo to Cabo San Lucas

Album 7 - Todos Santos to Ensenada

We're back from our road trip through Baja, Mexico. As soon as the school bell rang on the last day of school I was out the door and we were headed for the border. Off we were...For 18 days we travelled trough Baja staying at either a palapa on the beach (umbrella like shelter made of the local flora), a friend of a friend's cabin, or a Mexican hostel. You can guess which ones offered the most luxury! Sleeping under the stars on the beaches was lovely, although a little windy, yet after so much sand the hostels did seem luxurious to have a shower and toilet in the same room.

We probably spent 1/4 of our time on the off roads to get to some of beautiful remote seasides, some of the roads were the ones used for the Baja 1000 race in November each year. Initially we made the awful mistake of not letting any air out of the tires when travelling on roads filled with a combination of sand, gravel and rocks which resulted in two flat tires for us and one for the VW camper van travelling with us. Despite the sweat and dirt I think Stephen and Joel felt pretty macho changing these tires in the middle of the desert as they were very well prepared with extra tools, gadgets and gear. After that I'd like to say that we had pretty much smooth sailing but the so-called "roads" we anything but smooth. This was one of the reasons we bought an off-road vehicle though. Nothing thrilled Stephen more than flying through 75 miles of forests of cactus as high as telephone poles (and as strong I had to remind him) on sandy trails. A few times the van with us got stuck but the two boys scouts had anticipated this and were prepared for Stephen to tow out the van. Again another moment overflowing with testosterone.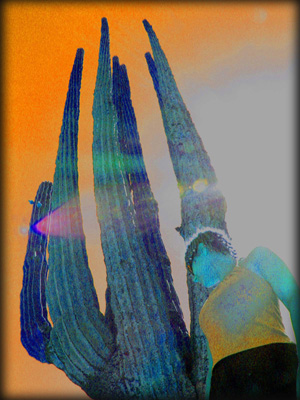 My only disappointment had come at the beginning of the trip since I had read all the dive books describing these incredible places to dive in the north of Baja and when we got there, there were no dive shops nor boats to take divers out to the sites. I guess we were suppose to have our own gear and boat. However we ended up making it all the way to the southern tip of Baja where there are huge resorts, many tourists and several well established dive shops. We did one of the most fascinating dives we've ever done. The dive shop picked us up at our pension at 7 am and brought us to the marina where we hoped aboard a boat for an hour ride up the coast. There we anchored at Los Islotes, Bay of La Paz and we dove with sea lions! Wow - what an incredible rush! It was the birthing season so as we came around the site on the boat there were lots of infant sea lionsabsolutelyely adorable- but of course this also bring protective males as well. Our dive master didn't have us dive too close to the pups for surely we'd find ourselves in trouble so we stayed to toppositeite end of the island but did venture close enough I guess to have a few males come tearing at us barking under water; a little nerve racking but we simply turned around. The most thrilling part though was playing with the adolescents. They come racistraightght at us and then they turn at the last second, meanwhile your brain is fooled thinking they're going to crash into you! They would also come up and blow bubbles in your face and pull on your fins. The funniest part is when you don't see any of them one second and then BOOM they're right in your face and doing flips and circles around us. It was just like playing with puppies under water. We had just missed the whale shark season by a few weeks so we were a little disappointed not to see any of those giants but the sea lions sure made up for it.

So after 18 days on the road we're safely back and I don't want to see burritos or beans again for another year!

Sharon

Before you start the show make sure you have an hour to waste.
I just got a new Canon G2 digital camera for the trip and I got a little carried away.
I ended up taking over 900 photos. So, go to the fridge, grab a cold one or,
better yet put a pot of coffee on, and have a cup of java.
Sit back and enjoy the show. Stephen
© 2002-2009 Stephen Burns. All rights reserved.